Home Care in Floral Park, NY – Avoiding Repeat Hip Fractures
Hip fractures happen to 400,000 adults in their senior years annually. More than 25% of these adults end up remaining institutionalized for a year. One hip fracture tends to increase the likelihood of a repeat hip fracture, so there are a lot of things your loved one needs to be careful of in the event of this happening.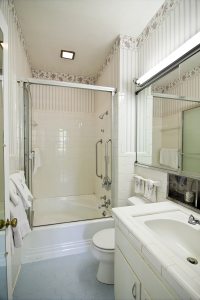 First of all it's very beneficial to have an expert caregiver coming into the home of an elder adult who lives alone. The caregiver can help your loved one to avoid falls. If there is an emergency that happens with your loved one, there's someone there to help and to notify emergency personnel. Home health care services can provide assistance and home medical care when your senior loved one is recuperating at home.
Common hazards for falling and experiencing hip fractures include the following:
Tripping over a rug or other object lying on the floor
Not having adequate railings on stairs, so there's nothing to grab onto if they lose their footing
Not having grab bars placed in appropriate locations in the bathroom
Slippery floors or walking surfaces
Furniture that's unstable or juts out into the walking pathway
Electrical cords that are dangling or lying across the floor
Throw-rugs in the kitchen or other rooms
Insufficient lighting in any room or hallway
Some strategies you can use to lessen your elderly loved one's chances of falling:
Purchase a proper bathing chair which is designed to sit in the tub and be used to take showers. It must have non-skid rubber tips on the legs and should be adjustable.
Put frequently used objects down at eye level and don't keep any footstools or step stools in the house for them to step up on to reach something.
If they need a walker, cane or other assistive device for walking and balance, make sure they are fitted properly and are used when needed.
Install sidebars and a raised toilet seat to make bathroom trips easier
Make sure their shoes are properly fitting and provide sturdy support
Install a hand-held shower unit so your parents can sit in the bath chair and easily adjust the flow of water coming out of the shower head
Buy a long shoe-horn so they can put on their shoes without potentially losing their balance resulting in a fall
You can check into getting an occupational therapist to come into your parent's home and giving recommendations for assistive devices they may need which would make everyday living easier. You can also ask their doctor for recommendations on daily exercises they can do to keep their muscles strong and their balance steadier. This will help to reduce falls significantly.
If you or an aging loved one are in need of home care services in Floral Park, NY  or the surrounding areas, contact the caring professionals at Star Multi Care Services today at (631)956-8835. We are the Right Choice for Home Health Care Services!
Providing Services to Floral Park, Great Neck, Manhasset, Rockville Center, Plainview, Huntington, Massapequa, Dix Hills, Northport, and Stonybrook
Stephen Sternbach has been the Chairman of the Board of Directors, President, and Chief Executive Officer of Star Multi Care Services since 1987. After the sale of the New York and New Jersey operations of Star Multi Care Services, Sternbach brought the company private where he remains President and CEO of this newly developed $22M home healthcare company. With Sternbach at the helm, Star Multi Care Services employs more than 550 employees, in six offices throughout Florida, Pennsylvania, Ohio and New York.

From 1978 to 1986, Sternbach was associated with Automated Data Processing, Inc. ("ADP")–a provider of information services, where he held several marketing positions before becoming the Director of Sales.

1999-2008 Sternbach was an active participant on the Board of Directors for Proginet–a computer software company based in Garden City, New York. He also served on the Board of Trustees of the Long Island Chapter of the National Multiple Sclerosis Society from 1996-2002.

In 1996, Stephen Sternbach was named "Entrepreneur of the Year" by Ernst & Young, Paine Webber and NASDAQ. Sternbach was also named in Crain's New York Business Article, "40 Under 40" Successful Business Executives/Future Business Leaders in 1995. While maintaining a diversity of business and personal interests, Sternbach concentrated most of his efforts over the past 28 years towards continuously improving the quality of services delivered by the Star Multi Care Services' family of companies.

Stephen Sternbach holds a Master of Public Administration from Syracuse University – Maxwell School of Public Administration and a Bachelor of Arts in Industrial Relations and Personnel Administration from Ithaca College.
Latest posts by Stephen Sternbach (see all)