Senior Care in Floral Park, NY – Helping a senior with Dementia to Stay Hygienic
If you have a loved one who has dementia, you may begin to notice that personal hygiene has become a struggle. Simple tasks such as showering, brushing teeth, and getting dressed become more difficult. As your loved one's dementia advances, you may need to assist them with these daily tasks. There is a chance that they will get more aggressive with you or just flat out refuse to do these tasks. This is normal for seniors who have different forms of dementia.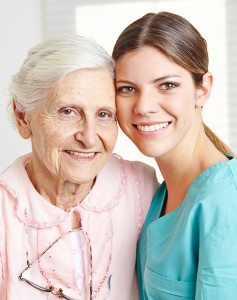 Help with Grooming a Parent who has Dementia
Personal hygiene is very important and it's imperative that your loved one completes a daily routine. As the dementia progresses, your loved one will probably require more and more assistance. When you are helping your loved on with these task be sure to use clear straightforward directions and do your best to preserve their dignity. If needed, you might want to hire a senior care service because they are experts at helping seniors with dementia, and can be a friend for your parent who understands.
Your loved one will probably require a strict routine to take care of their personal hygiene; you can work it into their schedule so it is done at the same time every day. Here are some guidelines you can follow when it comes to bathing and dressing.
When it comes to taking a bath or a shower, your loved one may resist. Create a schedule and share it with them. If your loved one needs assistance, tell them nicely that you are going to help them. Having some kind of seat in the shower or bath can make this task easier. If they are capable of washing private areas allow them to do so, you can help with everything else. If your parent is uncomfortable unclothed, then cover up private areas during bathing to relieve embarrassment and to sustain their dignity.
Getting dressed and brushing both hair and teeth are an important part of the routine. Choose a time during the day to complete these activities and let you loved one know. Doing these tasks right away in the morning might be helpful. If your elderly loved one needs your support to get dressed, change one article of clothing at a time versus completely undressing. When brushing the hair or teeth it might be beneficial to stand in front of your loved one and perform the motions at the same time.
If you have a loved one with dementia, having a personal hygiene routine is very important for their health. Assist them as much as they need but be sure to preserve their dignity to the best of your ability.
If you or an aging loved one are in need of senior care services in Floral Park, NY or the surrounding areas, contact the caring professionals at Star Multi Care Services today at (631)956-8835. We are the Right Choice for Home Health Care Services!
Providing Services to Floral Park, Great Neck, Manhasset, Rockville Center, Plainview, Huntington, Massapequa, Dix Hills, Northport, and Stonybrook
Stephen Sternbach has been the Chairman of the Board of Directors, President, and Chief Executive Officer of Star Multi Care Services since 1987. After the sale of the New York and New Jersey operations of Star Multi Care Services, Sternbach brought the company private where he remains President and CEO of this newly developed $22M home healthcare company. With Sternbach at the helm, Star Multi Care Services employs more than 550 employees, in six offices throughout Florida, Pennsylvania, Ohio and New York.

From 1978 to 1986, Sternbach was associated with Automated Data Processing, Inc. ("ADP")–a provider of information services, where he held several marketing positions before becoming the Director of Sales.

1999-2008 Sternbach was an active participant on the Board of Directors for Proginet–a computer software company based in Garden City, New York. He also served on the Board of Trustees of the Long Island Chapter of the National Multiple Sclerosis Society from 1996-2002.

In 1996, Stephen Sternbach was named "Entrepreneur of the Year" by Ernst & Young, Paine Webber and NASDAQ. Sternbach was also named in Crain's New York Business Article, "40 Under 40" Successful Business Executives/Future Business Leaders in 1995. While maintaining a diversity of business and personal interests, Sternbach concentrated most of his efforts over the past 28 years towards continuously improving the quality of services delivered by the Star Multi Care Services' family of companies.

Stephen Sternbach holds a Master of Public Administration from Syracuse University – Maxwell School of Public Administration and a Bachelor of Arts in Industrial Relations and Personnel Administration from Ithaca College.
Latest posts by Stephen Sternbach (see all)