Star Multi Care in Melville NY
Earlier this year, Lauren Scalcione, Administrator and Luci Devito, Administrative Assistant attended a job fair at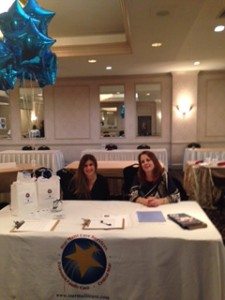 the Clarion Hotel and Conference Center in Ronkonkomo, New York.  The event was sponsored by the Long Island Job Finder with over 600 participants attending.   The fair was offered free of charge to the public.
Lauren is hoping to attract over 20 new employees to fill a recent influx of new cases the branch has recently received.  "Some people may think it is a good problem to have", Lauren stated.  "However, I see it as a common industry problem that needs to be addressed", she continued.   The demand for quality home health aides has drastically risen over the past several years.  Star Multi Care, like many of their competitors, has been trying different venues to attract new employees.
"We wanted to attend job fairs to meet the candidates in person and allow each of them the opportunity to see some of the faces behind Star Multi Care", Lauren said.  "Given the opportunity to hear what we offer as opposed to the competition, we are confident they would choose us", she concluded.
Star Multi Care has been in business since 1938 and continues to provide quality in home care to all ages.  Employees are fully screened and competitively compensated.  If you or someone you know is a compassionate, fun-loving and dedicated home health aide interested in joining the Star Multi Care team, please call, 631-424-STAR (7827) or visit them online at www.starmulticare.com.
If you or an aging loved one are in need of home care services in Melville, NY or the surrounding areas, contact the caring professionals at Star Multi Care Services today at (631)956-8835. We are the Right Choice for Home Health Care Services!
Stephen Sternbach has been the Chairman of the Board of Directors, President, and Chief Executive Officer of Star Multi Care Services since 1987. After the sale of the New York and New Jersey operations of Star Multi Care Services, Sternbach brought the company private where he remains President and CEO of this newly developed $22M home healthcare company. With Sternbach at the helm, Star Multi Care Services employs more than 550 employees, in six offices throughout Florida, Pennsylvania, Ohio and New York.

From 1978 to 1986, Sternbach was associated with Automated Data Processing, Inc. ("ADP")–a provider of information services, where he held several marketing positions before becoming the Director of Sales.

1999-2008 Sternbach was an active participant on the Board of Directors for Proginet–a computer software company based in Garden City, New York. He also served on the Board of Trustees of the Long Island Chapter of the National Multiple Sclerosis Society from 1996-2002.

In 1996, Stephen Sternbach was named "Entrepreneur of the Year" by Ernst & Young, Paine Webber and NASDAQ. Sternbach was also named in Crain's New York Business Article, "40 Under 40" Successful Business Executives/Future Business Leaders in 1995. While maintaining a diversity of business and personal interests, Sternbach concentrated most of his efforts over the past 28 years towards continuously improving the quality of services delivered by the Star Multi Care Services' family of companies.

Stephen Sternbach holds a Master of Public Administration from Syracuse University – Maxwell School of Public Administration and a Bachelor of Arts in Industrial Relations and Personnel Administration from Ithaca College.
Latest posts by Stephen Sternbach (see all)