Elder Care in Great Neck NY
People who make time during International Listening Awareness month every year will, over the years, perfect the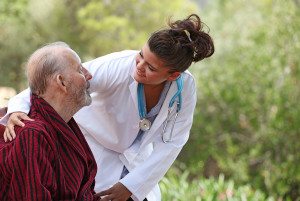 listening side of their communicating selves. Listening to others sends the message that, "You are important, I value what you have to say." People are not always aware of the messages they send during conversations with friends. Pay attention to other people, what do they do differently?
If someone wants to know if they are a good listener, the first thing to do is monitor conversations. If a good listener catches themselves interrupting another while they are speaking, they always apologize and let the person finish what they were saying. It is critical for people with certain kinds of careers to develop excellent listening skills, not just for good manners, they need to be good listeners to do their jobs well. Think of the problem a detective would have if he didn't listen carefully for clues when people spoke to him? Doctors, nurses, and paramedics would not be very efficient in saving lives without their excellent listening skills.
Seniors who receive home care services are in a wonderful position to observe how the people around them listen. The effects of talking with a good listener can be beneficial not only when someone has a need, is feeling ill, or needs assistance with something, good listening can bring joy to others as well. When professional senior care providers take the time to listen, they become very in tuned with how they can be of the best service to others. Just as friends love good listeners and consider them their best friends, often the caregivers who are the best listeners are favored among the elderly care population.
Elder care workers who listen to the seniors they work with are highly trusted. When an emergency or important event is happening, those well-developed listening skills will be essential. Being a valued team player in any career is a great feeling of accomplishment, just as being sought after as a best friend in social groups.  One day, those listening skills may make an amazing difference in someone's life.
If you or an aging loved one are in need of elder care services in Great Neck, NY or the surrounding areas, contact the caring professionals at Star Multi Care Services today at (631)956-8835. We are the Right Choice for Home Health Care Services!
Stephen Sternbach has been the Chairman of the Board of Directors, President, and Chief Executive Officer of Star Multi Care Services since 1987. After the sale of the New York and New Jersey operations of Star Multi Care Services, Sternbach brought the company private where he remains President and CEO of this newly developed $22M home healthcare company. With Sternbach at the helm, Star Multi Care Services employs more than 550 employees, in six offices throughout Florida, Pennsylvania, Ohio and New York.

From 1978 to 1986, Sternbach was associated with Automated Data Processing, Inc. ("ADP")–a provider of information services, where he held several marketing positions before becoming the Director of Sales.

1999-2008 Sternbach was an active participant on the Board of Directors for Proginet–a computer software company based in Garden City, New York. He also served on the Board of Trustees of the Long Island Chapter of the National Multiple Sclerosis Society from 1996-2002.

In 1996, Stephen Sternbach was named "Entrepreneur of the Year" by Ernst & Young, Paine Webber and NASDAQ. Sternbach was also named in Crain's New York Business Article, "40 Under 40" Successful Business Executives/Future Business Leaders in 1995. While maintaining a diversity of business and personal interests, Sternbach concentrated most of his efforts over the past 28 years towards continuously improving the quality of services delivered by the Star Multi Care Services' family of companies.

Stephen Sternbach holds a Master of Public Administration from Syracuse University – Maxwell School of Public Administration and a Bachelor of Arts in Industrial Relations and Personnel Administration from Ithaca College.
Latest posts by Stephen Sternbach (see all)