Senior Care in Massapequa NY
Back in November Ted had voluntarily given up driving for the winter. Living in Michigan he knew plenty about how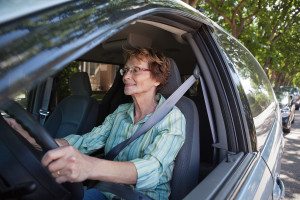 difficult it can be once the cold weather hit, the rain water can freeze, and the snow could fall. He didn't want to risk getting into an accident, getting stranded somewhere, and putting himself or others at risk.
Ted was 82 years old at the time and even though the Department of Motor Vehicles in Michigan hadn't suspended or revoked his driver's license yet, his family was thinking it was only a matter of time. When Ted told them he would not be driving anymore during the winter, they actually thought he was giving up driving altogether. Up until that time, they had been discussing various senior care options, including hiring a home care aide who could help him with various tasks around the house and even drive him wherever he needed to go.
Ted wasn't interested in getting senior home services through an agency just yet. He kept telling them he was more than capable of tending to his own needs and, "When I'm ready for it, I will let you know."
Ted overestimated his own abilities to do various things. One of those was driving. In the months prior to him voluntarily stepping back and away from driving for the winter, he had been in two near misses and one minor fender bender. Fortunately, the fender bender didn't cause any damage and no reported injuries resulted. As a result, the police were never called to the scene so there was no report filed regarding that incident.
Once winter ended, Ted's oldest son was visiting with him one afternoon and as the visit was coming to an end, Ted grabbed his car keys from a hook by the door and began following his son out. His son asked him what he was doing and Ted said he was going to go to the store.
Ted's son didn't know what to do at the time and offered to drive his father instead. His father was reluctant at first, but decided he preferred the company and took his son up on that offer. When his son returned home that evening, he began talking to family on the phone. They were all concerned because not only were there some new signs of struggle for Ted getting around and doing things on his own, it had been almost 5 months since he was last behind the wheel. A lot of things could have changed during that time.
They decided on an intervention and met at Ted's house to talk to him about permanently giving up his right to drive. It was a difficult conversation, but because they had done their homework and knew about the benefits of senior home services, he eventually agreed to have a caregiver working with him on a regular basis and driving him where he needed to go.
If you or an aging loved one are in need of senior care services in Massapequa, NY or the surrounding areas, contact the caring professionals at Star Multi Care Services today at (631)956-8835. We are the Right Choice for Home Health Care Services!
Stephen Sternbach has been the Chairman of the Board of Directors, President, and Chief Executive Officer of Star Multi Care Services since 1987. After the sale of the New York and New Jersey operations of Star Multi Care Services, Sternbach brought the company private where he remains President and CEO of this newly developed $22M home healthcare company. With Sternbach at the helm, Star Multi Care Services employs more than 550 employees, in six offices throughout Florida, Pennsylvania, Ohio and New York.

From 1978 to 1986, Sternbach was associated with Automated Data Processing, Inc. ("ADP")–a provider of information services, where he held several marketing positions before becoming the Director of Sales.

1999-2008 Sternbach was an active participant on the Board of Directors for Proginet–a computer software company based in Garden City, New York. He also served on the Board of Trustees of the Long Island Chapter of the National Multiple Sclerosis Society from 1996-2002.

In 1996, Stephen Sternbach was named "Entrepreneur of the Year" by Ernst & Young, Paine Webber and NASDAQ. Sternbach was also named in Crain's New York Business Article, "40 Under 40" Successful Business Executives/Future Business Leaders in 1995. While maintaining a diversity of business and personal interests, Sternbach concentrated most of his efforts over the past 28 years towards continuously improving the quality of services delivered by the Star Multi Care Services' family of companies.

Stephen Sternbach holds a Master of Public Administration from Syracuse University – Maxwell School of Public Administration and a Bachelor of Arts in Industrial Relations and Personnel Administration from Ithaca College.
Latest posts by Stephen Sternbach (see all)