Pediatric Home Health in Rockville Center NY
Is it possible to die of old age when a person is only a teenager?  Yes it is. There is an extremely rare disease called "Progeria," which causes children to age up to eight or ten times faster than other people.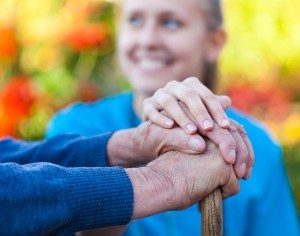 In the entire world, there are only about two hundred children with this condition.
Wikipedia says that the name of this disease comes from two Greek words, "pro" meaning before and "geras" meaning old age. Understanding this disease is of critical importance, because the research may unlock what actually causes the aging process in human beings.
Most people desire to live a long life and then peacefully expire in our sleep without any disease, pain, or suffering. The Guinness Book of World Records says the world-record holder for living to the oldest age is Jeanne Louise Calment of France who lived to be 122 years-old and 164 days.  Jeanne lived through the global calamity of two world wars, she saw the invention of television occur, air flight happen, and modern rocket science. One of the most interesting moments she recalled was meeting the artist Vincent Van Gough. He bought some colored pencils from her shop in Arles, France. Her recollection of the encounter was that he was scruffy and reeked of alcohol! Van Gough's most famous painting of "Sunflowers" was done at this time. It sold for a record $55 million at auction long after his death.
Living Long or Living Short – It is Living Well that Counts
On the one hand we have these sterling examples like Jeanne, who live to a ripe old age and seem to break all the rules. Then we have the rare and extraordinary children like Hayley Okines, who died at the age of 17 because her body aged too quickly. The Daily Mail reports, the average lifespan of a child with Progeria is thirteen years.
Life is Precious
No matter how long or short life is for any particular person, one thing is certain and that is life is precious. It really does not matter how long people live in comparison to how well they live. There is hope that research into the causes of Progeria will unlock the secrets that will help everyone live longer lives. Promising things are being discovered.  The Daily Mail reports that a single gene called LMNA, when mutated, causes rapid aging. A new drug called Ionafarnib seems to slow this process providing hope for those with Progeria as well as advancing the science of anti-aging.
If you or an aging loved one are in need of pediatric home health services in Rockville Center, NY or the surrounding areas, contact the caring professionals at Star Multi Care Services today at (631)956-8835. We are the Right Choice for Home Health Care Services!
Source
Progeria
http://en.wikipedia.org/wiki/Progeria
World Record for Oldest Person
http://www.guinnessworldrecords.com/world-records/oldest-person
Hayley Okines
http://www.medicalnewstoday.com/articles/291979.php
Progeria Drug Reverses Benjamin Button Disease
http://www.dailymail.co.uk/health/article-2208787/Progeria-Drug-reverses-rapid-aging-children-Benjamin-Button-disorder.html
Stephen Sternbach has been the Chairman of the Board of Directors, President, and Chief Executive Officer of Star Multi Care Services since 1987. After the sale of the New York and New Jersey operations of Star Multi Care Services, Sternbach brought the company private where he remains President and CEO of this newly developed $22M home healthcare company. With Sternbach at the helm, Star Multi Care Services employs more than 550 employees, in six offices throughout Florida, Pennsylvania, Ohio and New York.

From 1978 to 1986, Sternbach was associated with Automated Data Processing, Inc. ("ADP")–a provider of information services, where he held several marketing positions before becoming the Director of Sales.

1999-2008 Sternbach was an active participant on the Board of Directors for Proginet–a computer software company based in Garden City, New York. He also served on the Board of Trustees of the Long Island Chapter of the National Multiple Sclerosis Society from 1996-2002.

In 1996, Stephen Sternbach was named "Entrepreneur of the Year" by Ernst & Young, Paine Webber and NASDAQ. Sternbach was also named in Crain's New York Business Article, "40 Under 40" Successful Business Executives/Future Business Leaders in 1995. While maintaining a diversity of business and personal interests, Sternbach concentrated most of his efforts over the past 28 years towards continuously improving the quality of services delivered by the Star Multi Care Services' family of companies.

Stephen Sternbach holds a Master of Public Administration from Syracuse University – Maxwell School of Public Administration and a Bachelor of Arts in Industrial Relations and Personnel Administration from Ithaca College.
Latest posts by Stephen Sternbach (see all)