Elder Care in Rockville Center NY
June is National Safety Month, and there are many things people can do to improve safety for elderly individuals. Relying on elder care is just one aspect of improving safety. For family members, friends, or others who may be concerned about safety for elderly loved ones, below are five tips that can help to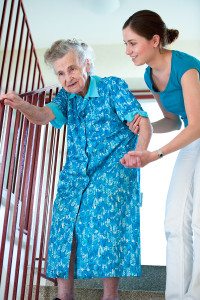 improve safety for them.
Tip #1: Talk to them directly. It's fine to make assumptions, but unless you actually sit down and have a conversation, you might not know the physical challenges and limitations they're dealing with at the moment. Have a direct and honest conversation about safety and ask questions. They may have concerns about getting up and down the stairs, driving to the store, or other things that they've been hesitant to mention.
Tip #2: Address issues with mobility. If the senior has difficulty getting up and down the stairs and lives in a multilevel house, he may want to consider moving to a spare bedroom that is on the same level as the kitchen and other rooms. If that's not practical, getting the assistance of home care for the elderly could help him safely navigate those stairs.
Tip #3: Improve lighting. When you improve lighting throughout the house, you remove shadows and make it easier for seniors to see objects that could be in their walking path.
Tip #4: Encourage the senior to move various objects out of the way. For example, an accent table in the hallway or a floor lamp near the sofa.  While these pieces may have been in the same place for years, they can easily become a tripping hazard (especially for individuals who have issues with balance).  Encourage the senior to free up the hallway and move things out of common walking areas.
Tip #5: Rely on an experienced caregiver for transportation. Many home care aides provide transportation services to their elderly clients. They can drive them to doctor's appointments, the mall, the supermarket, to visit friends, and more places.
These tips can help keep seniors safe this summer and for years to come.
If you or an aging loved one are in need of elder care services in Rockville Center, NY or the surrounding areas, contact the caring professionals at Star Multi Care Services today at (631)956-8835. We are the Right Choice for Home Health Care Services!
Stephen Sternbach has been the Chairman of the Board of Directors, President, and Chief Executive Officer of Star Multi Care Services since 1987. After the sale of the New York and New Jersey operations of Star Multi Care Services, Sternbach brought the company private where he remains President and CEO of this newly developed $22M home healthcare company. With Sternbach at the helm, Star Multi Care Services employs more than 550 employees, in six offices throughout Florida, Pennsylvania, Ohio and New York.

From 1978 to 1986, Sternbach was associated with Automated Data Processing, Inc. ("ADP")–a provider of information services, where he held several marketing positions before becoming the Director of Sales.

1999-2008 Sternbach was an active participant on the Board of Directors for Proginet–a computer software company based in Garden City, New York. He also served on the Board of Trustees of the Long Island Chapter of the National Multiple Sclerosis Society from 1996-2002.

In 1996, Stephen Sternbach was named "Entrepreneur of the Year" by Ernst & Young, Paine Webber and NASDAQ. Sternbach was also named in Crain's New York Business Article, "40 Under 40" Successful Business Executives/Future Business Leaders in 1995. While maintaining a diversity of business and personal interests, Sternbach concentrated most of his efforts over the past 28 years towards continuously improving the quality of services delivered by the Star Multi Care Services' family of companies.

Stephen Sternbach holds a Master of Public Administration from Syracuse University – Maxwell School of Public Administration and a Bachelor of Arts in Industrial Relations and Personnel Administration from Ithaca College.
Latest posts by Stephen Sternbach (see all)