Amy Brett Receives a Promotion
Amy Brett has extensive home care experience, having worked several years for two other home care companies.  Amy came to Star Multi Care looking for a change.  "I wanted to work for a larger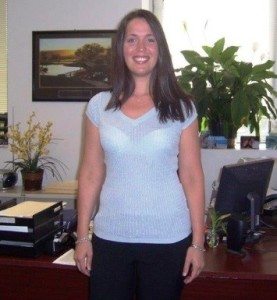 company with a positive work environment", she said.  "Star also provided an opportunity for the professional growth I wanted", she continued.  Last month Amy was promoted to Senior Patient Care Coordinator and is thrilled to continue her growth with the company.
As a Patient Service Coordinator Amy enjoys assisting families who receive in-home care.  "It is very rewarding to be able to help families in a crucial and extremely stressful time in their lives", she stated. "Allowing people to receive medical or companion services in the comfort of their own home is a nice option to present", she continued.  Ms. Brett has worked for Star Multi Care Services for over seven (7) years.  She claims to have stayed so long because of the pleasant working environment Star Multi Care provides.  "I am treated extremely well and am respected by my teammates", she stated.   "I enjoy working for Star mainly due to my co-workers".  "They really make it feel like a family here", she concluded.
The Star Multi Care Services family of companies continues to grow each year.  With branches in three other states, the New York branch has served as the company's corporate office since 1938.  However, it has become a leading revenue producer for the last several years with sales growth exceeding 100%.
"In 2006 we decided to make our New York office a fully functional home care location", says Stephen Sternbach, President and CEO.  "My vision was to service the New York residents with the same high quality care we provide in Ohio, Pennsylvania and Florida".  "Thankfully, it has flourished into one of our most successful locations", he concluded.
Star Multi Care has been a premier provider of in-home services in Nassau, Queens, Suffolk and the surrounding counties since 1938.  The office is located at 115 Broad Hollow Road – Suite 275, Melville, New York.  For more information about employment opportunities or the in-home services provided, please call 631-424-STAR (7827) or visit them at www.starmulticare.com.
Stephen Sternbach has been the Chairman of the Board of Directors, President, and Chief Executive Officer of Star Multi Care Services since 1987. After the sale of the New York and New Jersey operations of Star Multi Care Services, Sternbach brought the company private where he remains President and CEO of this newly developed $22M home healthcare company. With Sternbach at the helm, Star Multi Care Services employs more than 550 employees, in six offices throughout Florida, Pennsylvania, Ohio and New York.

From 1978 to 1986, Sternbach was associated with Automated Data Processing, Inc. ("ADP")–a provider of information services, where he held several marketing positions before becoming the Director of Sales.

1999-2008 Sternbach was an active participant on the Board of Directors for Proginet–a computer software company based in Garden City, New York. He also served on the Board of Trustees of the Long Island Chapter of the National Multiple Sclerosis Society from 1996-2002.

In 1996, Stephen Sternbach was named "Entrepreneur of the Year" by Ernst & Young, Paine Webber and NASDAQ. Sternbach was also named in Crain's New York Business Article, "40 Under 40" Successful Business Executives/Future Business Leaders in 1995. While maintaining a diversity of business and personal interests, Sternbach concentrated most of his efforts over the past 28 years towards continuously improving the quality of services delivered by the Star Multi Care Services' family of companies.

Stephen Sternbach holds a Master of Public Administration from Syracuse University – Maxwell School of Public Administration and a Bachelor of Arts in Industrial Relations and Personnel Administration from Ithaca College.
Latest posts by Stephen Sternbach (see all)