Caregiver in Northport NY
For a number of adult children, caring for their senior parents who live far away is just a part of life.  According to a study from Met Life, more than 80% of caregivers who live far away are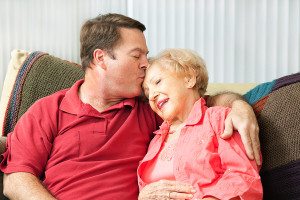 working and have to make changes to their work to ensure their parents receive the care they need. Also, more than 33% of these family members are reported to have missed work on a number of occasions to care for their loved one, and 12% had to take a leave of absence.
There is no question that being a long-distance caregiver can take a toll on the person in a number of ways including personally, financially, and professionally; however, proper planning can be quite beneficial to avoid these pitfalls. Some tips that can make long distance care giving easier on everyone, including the senior, are highlighted here.
Gather important documents
Important documents include insurance, medical, financial, personal, and legal documents. The legal documents can include trusts, wills, medical proxies, and powers of attorney. Personal documents include birth certificates, military discharge documents, marriage license, driver's licenses, and Social Security cards. Prior to an emergency occurring, it is also a good idea to gather copies of prior tax filings, sources of income, credit cards and bank account numbers. If there is an emergency, searching for these documents could be time consuming and stressful. Avoid this by having the documents in one place with easy access.
Create a network of help
Based on how far the family member lives from the senior, they may not be able to arrive during an emergency. Therefore, it is important to establish a relationship with the senior's neighbors, clergy, or friends who may be able to help. This person may also be able to look in on the senior and take them meals from time to time. The key is to ask for help.  Hiring a professional home care provider will ensure that everything is taken care of for the elderly loved one.
Make time together count
When visiting the senior, it is essential to make it more than just a social visit. Plan an activity that everyone will enjoy, such as arts and crafts or a board game.  Go to a movie or the theater.  This is also the ideal time to check in on how they are doing. For example, tell them you are tired and then ask them to drive to the grocery store – do they seem to be easily confused? Do they have good reflexes behind the wheel?
For family members who live far from their senior loved one, it may be a good idea to seek in-home care services. These services will provide excellent, safe senior care on a daily or weekly basis and ensure they get the help and assistance they need for day to day activities. This will provide long-distance family members with the peace of mind that their loved one is being well-cared for when they are not able to be there.
If you or an aging loved one are in need of caregiver services in Northport, NY or the surrounding areas, contact the caring professionals at Star Multi Care Services today at (631)956-8835. We are the Right Choice for Home Health Care Services!
Source
http://www.caregiving.org/data/milesaway.pdf
http://www.besmartbewell.com/caregiving/quiz.htm
http://www.firstlighthomecare.com/care-library/firstblog/
Stephen Sternbach has been the Chairman of the Board of Directors, President, and Chief Executive Officer of Star Multi Care Services since 1987. After the sale of the New York and New Jersey operations of Star Multi Care Services, Sternbach brought the company private where he remains President and CEO of this newly developed $22M home healthcare company. With Sternbach at the helm, Star Multi Care Services employs more than 550 employees, in six offices throughout Florida, Pennsylvania, Ohio and New York.

From 1978 to 1986, Sternbach was associated with Automated Data Processing, Inc. ("ADP")–a provider of information services, where he held several marketing positions before becoming the Director of Sales.

1999-2008 Sternbach was an active participant on the Board of Directors for Proginet–a computer software company based in Garden City, New York. He also served on the Board of Trustees of the Long Island Chapter of the National Multiple Sclerosis Society from 1996-2002.

In 1996, Stephen Sternbach was named "Entrepreneur of the Year" by Ernst & Young, Paine Webber and NASDAQ. Sternbach was also named in Crain's New York Business Article, "40 Under 40" Successful Business Executives/Future Business Leaders in 1995. While maintaining a diversity of business and personal interests, Sternbach concentrated most of his efforts over the past 28 years towards continuously improving the quality of services delivered by the Star Multi Care Services' family of companies.

Stephen Sternbach holds a Master of Public Administration from Syracuse University – Maxwell School of Public Administration and a Bachelor of Arts in Industrial Relations and Personnel Administration from Ithaca College.
Latest posts by Stephen Sternbach (see all)