Pediatric Home Health Care in Plainview NY
Encouraging reports come from the Child Mind Institute about the results of scientific research studies that show exercise decreases the severity of ADHD symptoms while improving cognitive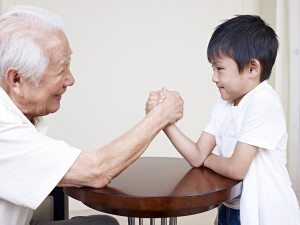 function.
In general, as WebMD points out, one of the main characteristics of children with ADHD is restless activity and fidgety behaviors, combined with the inability to remain calm and sit in one place for very long.
It seems logical that physical activities should be the anti-dote for this overly active behavior. However, it is not as simple as that. In fact, over-stimulation with increased physical activities may make the problem worse. Caregivers providing professional in-home care as pediatric care for children with ADHD know that the type of exercise is also important.
Physical exercise for children with ADHD is important. The recommendation is that they get at least one hour of moderate to intense exercise every day. Examples of good types of exercises are sprint swimming, running (especially sprints), and rigorous bicycle riding (like going up hills or mountain biking on trails). The idea is to mix intense bursts of energy for fifteen minutes, with rest periods interspersed between them.
This form of exercise is good for all children and adults as well. However, ADHD children have additional needs. Besides physical exertion, they need exercises that also stimulate mental concentration. Parenting says that any outdoor activities, such as nature walks, are beneficial for children with ADHD. Simply strolling through the park for a twenty-minute walk and counting the number and types of birds and animals seen is very beneficial. The ADHD child is moving about, while simultaneously engaged in mental focus on the surroundings.
Another popular exercise for ADHD children is any form of martial arts, as recommended by Everyday Health. The children are able to enjoy the physicality of the practice and must use mental concentration skills to do it well.
Frustration and Lack of Attention
Frustration and lack of attention is a common problem with ADHD children. One way to avoid frustration is to choose activities that the child with ADHD themselves perceives as being "fun." If possible, take timeouts when frustration arises and change to another simple activity, like running in place that the child uses to represent his or her frustration.
When a child is able to stop doing something that frustrates them, or they suddenly lack attention, if there is an activity that the child chooses to represent this feeling it makes it much easier to deal with it. Then, after a bit of expression of the "frustration feeling," through some physical act, it is easier for the child to return to try something again.
Activities That Increase Concentration
Here is a list of few activities that offer physical exercise combined with opportunities for concentration that represent the concept. For success, it is important that these activities appeal to a child with ADHD and feel fun:
Martial Arts
Dancing
Table Tennis
Running obstacle courses mixed with solving simple puzzles along the way
Running to find hidden things, based on written clues in a treasure hunt. Using the hints of getting warmer or colder, as the child nears a hidden object is fun.
Summary
Physical exercise plays an important role in children with ADHD. The best forms of exercise are fun and combine the physical exertion with activities that increase mental concentration.
If you or an aging loved one are in need of pediatric home health care services in Plainview, NY or the surrounding areas, contact the caring professionals at Star Multi Care Services today at (631)956-8835. We are the Right Choice for Home Health Care Services!
Source
Exercise and ADHD
http://www.childmind.org/en/posts/articles/2014-11-17-exercise-and-adhd
Exercise for Children With ADHD
http://www.webmd.com/add-adhd/childhood-adhd/exercise-for-children-with-adhd_
Great Activities for Kids with ADHD
http://www.parenting.com/gallery/activities-for-kids-with-adhd
After-School Activities for Children With ADHD
http://www.everydayhealth.com/health-report/adhd-children/afterschool-activities-for-children-with-adhd.aspx
5 Focus Exercises for ADHD Kids
http://www.empoweringparents.com/5-focus-exercises-for-adhd-kids.php
Stephen Sternbach has been the Chairman of the Board of Directors, President, and Chief Executive Officer of Star Multi Care Services since 1987. After the sale of the New York and New Jersey operations of Star Multi Care Services, Sternbach brought the company private where he remains President and CEO of this newly developed $22M home healthcare company. With Sternbach at the helm, Star Multi Care Services employs more than 550 employees, in six offices throughout Florida, Pennsylvania, Ohio and New York.

From 1978 to 1986, Sternbach was associated with Automated Data Processing, Inc. ("ADP")–a provider of information services, where he held several marketing positions before becoming the Director of Sales.

1999-2008 Sternbach was an active participant on the Board of Directors for Proginet–a computer software company based in Garden City, New York. He also served on the Board of Trustees of the Long Island Chapter of the National Multiple Sclerosis Society from 1996-2002.

In 1996, Stephen Sternbach was named "Entrepreneur of the Year" by Ernst & Young, Paine Webber and NASDAQ. Sternbach was also named in Crain's New York Business Article, "40 Under 40" Successful Business Executives/Future Business Leaders in 1995. While maintaining a diversity of business and personal interests, Sternbach concentrated most of his efforts over the past 28 years towards continuously improving the quality of services delivered by the Star Multi Care Services' family of companies.

Stephen Sternbach holds a Master of Public Administration from Syracuse University – Maxwell School of Public Administration and a Bachelor of Arts in Industrial Relations and Personnel Administration from Ithaca College.
Latest posts by Stephen Sternbach (see all)