Pediatric Home Health Care in Huntington NY
As research scientists become more adept in the intricacies of genetic research, amazing discoveries help find a cure for devastating conditions that strongly affect children such as cerebral palsy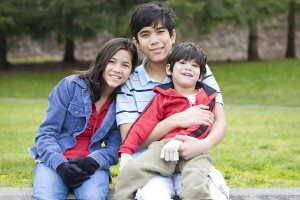 and autism.
Professional caregivers who work with children providing in-home care, know very well how these cures are so desperately needed. Everybody hopes for the day when scientists discovery both the genetic mechanisms that cause these disease and find treatments to cure them.
Cerebral Palsy
The Center for Disease Control (CDC) says that cerebral palsy is the most common illness that causes a negative impact on a child's motor skills. About two or three, out of every one thousand children born, have cerebral palsy. Children with cerebral palsy have difficulty walking, with about 30% having very limited or no ability to walk at all. They need to use a walker or a wheel chair.
Other conditions frequently occur along with cerebral palsy. About 41% of children with cerebral palsy also have epilepsy. Around 7% of children with cerebral palsy have autism spectrum disorder (ASD) as well.
Genetic Research on the Causes of Cerebral Palsy
Much of previous research was on babies, who experienced difficult births, as one of the main factors causing cerebral palsy. Low birth weight and being born prematurely increase the risk for having cerebral palsy. Disruption of adequate blood flow and oxygen to the baby during the pregnancy and/or birth causes brain damage, which sometimes results in cerebral palsy. Infections experienced by a pregnant mother that hurt the baby also may cause cerebral palsy. Because of the focus on these causes, study of genetic influences happened only recently.
Research reported by Medical News Today, conducted at The Hospital for Sick Children in Canada, shows a stronger genetic determinant for the cause of cerebral palsy than was previously suspected. Scientists were surprised to find 10% of the children with cerebral palsy had higher levels of copy number variations (CNVs) in the genes known to be involved with cerebral palsy. Only 1% of children without cerebral palsy have these particular CNVs.
The different levels of CNVs in children with cerebral palsy also helps explain why the disease manifests differently in children, in a way similar to autism spectrum disorder.
Autism Spectrum Disorder (ASD)
The CDC reports that around fourteen or fifteen children in one thousand have ASD. It is interesting to note that boys are five times more likely to have ASD than girls, and children with cerebral palsy are much more likely to have ASD.
ASD is part of a range of developmental disabilities affecting one in every six children in America. The milder conditions have impairments in speech and/or language skill. The more serious conditions include severely reduced intellectual functions and impaired motor skills caused by cerebral palsy.
Genetic Research on the Causes of ASD
Research scientists at University of North Carolina School of Medicine recently discovered that a gene mutation in the gene UBE3A, causes it to become overly active, which leads to abnormal development of the brain that results in ASD.
Conclusion
While ASD and cerebral palsy are very different in the ways they affect children, there may be similar genetic processes occurring to cause both of these diseases that scientists are just now discovering.
If you are in need of pediatric home health care in Huntington, NY or the surrounding areas, contact the caring professionals at Star Multi Care Services today at (631)956-8835. We are the Right Choice for Home Health Care Services!
Source
Data & Statistics for Cerebral Palsy
http://www.cdc.gov/ncbddd/cp/data.html
Cerebral palsy: researchers uncover evidence of genetic causes
http://www.medicalnewstoday.com/articles/297640.php
Data & Statistics for Autism Spectrum Disorder (ASD)
http://www.cdc.gov/ncbddd/autism/data.html
Scientists discover how a gene mutation causes autism
http://www.medicalnewstoday.com/articles/297844.php
Stephen Sternbach has been the Chairman of the Board of Directors, President, and Chief Executive Officer of Star Multi Care Services since 1987. After the sale of the New York and New Jersey operations of Star Multi Care Services, Sternbach brought the company private where he remains President and CEO of this newly developed $22M home healthcare company. With Sternbach at the helm, Star Multi Care Services employs more than 550 employees, in six offices throughout Florida, Pennsylvania, Ohio and New York.

From 1978 to 1986, Sternbach was associated with Automated Data Processing, Inc. ("ADP")–a provider of information services, where he held several marketing positions before becoming the Director of Sales.

1999-2008 Sternbach was an active participant on the Board of Directors for Proginet–a computer software company based in Garden City, New York. He also served on the Board of Trustees of the Long Island Chapter of the National Multiple Sclerosis Society from 1996-2002.

In 1996, Stephen Sternbach was named "Entrepreneur of the Year" by Ernst & Young, Paine Webber and NASDAQ. Sternbach was also named in Crain's New York Business Article, "40 Under 40" Successful Business Executives/Future Business Leaders in 1995. While maintaining a diversity of business and personal interests, Sternbach concentrated most of his efforts over the past 28 years towards continuously improving the quality of services delivered by the Star Multi Care Services' family of companies.

Stephen Sternbach holds a Master of Public Administration from Syracuse University – Maxwell School of Public Administration and a Bachelor of Arts in Industrial Relations and Personnel Administration from Ithaca College.
Latest posts by Stephen Sternbach (see all)