Home Care in Plainview NY
Personal hygiene is one of the basic elements of taking care of yourself and some of the first things that people learn how to do on their own. For seniors with Alzheimer's disease and other forms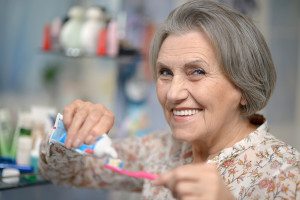 of dementia, however, personal hygiene can become a struggle that can make a negative impact on their mental, emotional, and even physical health.
A home care provider can make this care task easier and more approachable for your seniors, ensuring that they get the hygiene that they need while also encouraging as much independence as possible. With a personalized approach that addresses the cognitive and emotional aspects of personal hygiene along with the physical benefits of regular personal care, this in home health care services provider can be a valuable asset in keeping your parents comfortable, healthy, and happy. As an added benefit, many seniors, even those with dementia, are uncomfortable with the prospect of their adult child helping them with potentially sensitive personal hygiene tasks, but are more comfortable with entrusting a professional care provider with such tasks. This means that by letting the home care provider be the one that helps your parents with these tasks you are giving them a better chance of getting the tasks completed successfully and thoroughly with minimal emotional turmoil.
Some of the ways that a home care provider can help seniors with dementia keep up with their personal hygiene include:
• Establishing a routine. Routine and predictability are crucial when it comes to care for seniors with dementia. Knowing what is coming gives your parents a sense of control and security, while also stimulating their memory skills. Coming up with a specific routine for self-care enables the seniors to follow along with a familiar pattern so they are more likely to comply quickly and smoothly. This is especially impactful for seniors who cannot remember when they last bathed, brushed their teeth, or washed their hair. Having a routine and being reminded of the specific time or day means that they simply go along with it even if they think that they already did it because it is part of the routine.
• Mirroring. Many seniors with dementia do not remember the significance of personal hygiene activities or how to perform those activities properly. A care provider can help with this sense of confusion and disorientation, while also encouraging independence, by mirroring care tasks and allowing the senior to follow them. This simply means that the care provider goes through the motions of personal hygiene tasks such as brushing teeth or combing hair and the seniors do the same things, completing the tasks even if they are unsure why it is happening.
• Distraction. Another common result of dementia when it comes to personal hygiene is fear. Because the seniors no longer understand the purpose of the personal hygiene task they may be afraid of it, such as the sound of the water or the look of a razor. The care provider can create distractions that allows your parents to focus on something else while the care task is underway so that they can have reduced anxiety and there is less risk of combative or disruptive behavior.
If you or an aging loved one are in need of home care services in Plainview, NY or the surrounding areas, contact the caring professionals at Star Multi Care Services today at (631)956-8835. We are the Right Choice for Home Health Care Services!
Stephen Sternbach has been the Chairman of the Board of Directors, President, and Chief Executive Officer of Star Multi Care Services since 1987. After the sale of the New York and New Jersey operations of Star Multi Care Services, Sternbach brought the company private where he remains President and CEO of this newly developed $22M home healthcare company. With Sternbach at the helm, Star Multi Care Services employs more than 550 employees, in six offices throughout Florida, Pennsylvania, Ohio and New York.

From 1978 to 1986, Sternbach was associated with Automated Data Processing, Inc. ("ADP")–a provider of information services, where he held several marketing positions before becoming the Director of Sales.

1999-2008 Sternbach was an active participant on the Board of Directors for Proginet–a computer software company based in Garden City, New York. He also served on the Board of Trustees of the Long Island Chapter of the National Multiple Sclerosis Society from 1996-2002.

In 1996, Stephen Sternbach was named "Entrepreneur of the Year" by Ernst & Young, Paine Webber and NASDAQ. Sternbach was also named in Crain's New York Business Article, "40 Under 40" Successful Business Executives/Future Business Leaders in 1995. While maintaining a diversity of business and personal interests, Sternbach concentrated most of his efforts over the past 28 years towards continuously improving the quality of services delivered by the Star Multi Care Services' family of companies.

Stephen Sternbach holds a Master of Public Administration from Syracuse University – Maxwell School of Public Administration and a Bachelor of Arts in Industrial Relations and Personnel Administration from Ithaca College.
Latest posts by Stephen Sternbach (see all)