Elderly Care in Northport NY
Thanksgiving is all about the holiday feast, and the day after, it is all about the leftovers. Thanksgiving leftovers are some of the most beloved traditions of this holiday, and they can be a fantastic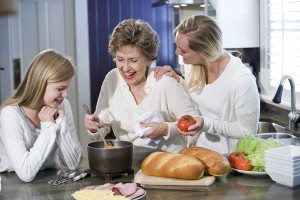 way to simplify your holiday season elderly care approach. With some creative thinking and advance planning, you can turn your Thanksgiving leftovers into a premade menu for weeks after.
Try some of these creative ideas, and share them with your aging loved ones' elderly health care services provider, to save Thanksgiving leftovers and use them again for easy, nutritious meals that will save you time and energy later in the season:
• Individual serving jars. Most people eat their Thanksgiving dinner by picking up forkfuls that include a little bit of everything they can fit, so make it easy to enjoy the mixture of holiday flavors with individual serving jars of leftovers. Prepare several pint-sized glass jars in advance by washing and drying them thoroughly and have them set aside for after the meal. When you are finished eating, portion out the leftovers into these jars, creating layers of each dish such as the turkey, mashed potatoes, dressing, beans, gravy, and even cranberry sauce, and then finish off with the lid. Since you will be refrigerating or freezing these, you do not have to worry about the process of canning. This is also a great way to send your guests home with leftovers. Just pop your jars in the refrigerator and eat within three to five days, or put them in the freezer and enjoy within the next few months
• Individual serving bags. If mixing up the food is not exactly your thing, or you just want some extra versatility with your leftovers, invest in a couple of boxes of snack-sized or sandwich-sized zipper bags. Distribute your leftovers into these bags in individual portions, and zip them closed firmly. Transfer all of the bags of each kind of food into a large freezer bag to protect them and then put them in the freezer so you can pull out exactly what you need, when you need it
• Meal kits. With this option, some additional preparation and cooking will be necessary, but it makes using up your leftovers more interesting. Simply store leftovers in individual containers near other ingredients necessary to make other meals. For example, put leftover turkey in a large freezer zipper bag and tape it to a bag of stir-fry vegetables. This will make it easy to visualize your leftover-enhanced meal when you open up the freezer wondering what to make for dinner.
Get in touch with the elder care agency in your area to find out more about hiring and elderly health care services provider who can help you to enhance your aging loved ones' quality of life throughout their aging years by creating a customized care approach that takes into consideration their specific needs and challenges, while honoring their wishes and their desire for independence.
If you or an aging loved one are in need of elderly care services in Northport, NY or the surrounding areas, contact the caring professionals at Star Multi Care Services today at (631)956-8835. We are the Right Choice for Home Health Care Services!
Stephen Sternbach has been the Chairman of the Board of Directors, President, and Chief Executive Officer of Star Multi Care Services since 1987. After the sale of the New York and New Jersey operations of Star Multi Care Services, Sternbach brought the company private where he remains President and CEO of this newly developed $22M home healthcare company. With Sternbach at the helm, Star Multi Care Services employs more than 550 employees, in six offices throughout Florida, Pennsylvania, Ohio and New York.

From 1978 to 1986, Sternbach was associated with Automated Data Processing, Inc. ("ADP")–a provider of information services, where he held several marketing positions before becoming the Director of Sales.

1999-2008 Sternbach was an active participant on the Board of Directors for Proginet–a computer software company based in Garden City, New York. He also served on the Board of Trustees of the Long Island Chapter of the National Multiple Sclerosis Society from 1996-2002.

In 1996, Stephen Sternbach was named "Entrepreneur of the Year" by Ernst & Young, Paine Webber and NASDAQ. Sternbach was also named in Crain's New York Business Article, "40 Under 40" Successful Business Executives/Future Business Leaders in 1995. While maintaining a diversity of business and personal interests, Sternbach concentrated most of his efforts over the past 28 years towards continuously improving the quality of services delivered by the Star Multi Care Services' family of companies.

Stephen Sternbach holds a Master of Public Administration from Syracuse University – Maxwell School of Public Administration and a Bachelor of Arts in Industrial Relations and Personnel Administration from Ithaca College.
Latest posts by Stephen Sternbach (see all)