Senior Care in Huntington NY
Seniors who enjoy using computers may have found that computers have made their lives easier in many ways.  They can communicate with family quickly and easily through email and video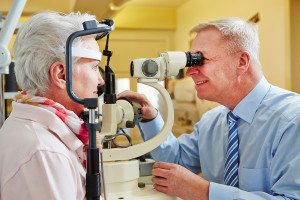 chat, they can find useful information with the click of a mouse, and they can share photos with friends and family through social media.  While technology can bring a lot of joy to a senior's life, seniors must use computers with caution to prevent computer eye strain.
What is Computer Eye Strain?
Computer eye strain is actually so common that it has an official name – Computer Vision Syndrome, or CVS.  CVS is the blanket term for computer use-related vision and eye problems.  Some signs and symptoms of CVS include headaches, dry eyes, blurred vision after using the computer, eye strain, and even neck and shoulder pain.  CVS does not typically cause the eyes any permanent damage, but it can be irritating to seniors and make computers less enjoyable to use.
How is CVS Prevented?
For preventing the symptoms of CVS and for general eye health, seniors should continue to get regular eye exams.  Changes in eyeglass prescriptions can affect the way seniors view the computer screen, so it is important to keep prescriptions up to date.  Here are a few other tips seniors can use to help prevent CVS:
•   Take a break from looking at the computer screen (or tablet or E-reader) every 15-20 minutes.  Getting up and stretching can help to alleviate neck and shoulder stiffness and it is good for the eyes to take a rest from the screen.
•   Dust and dirt can make the screen appear less clear.  For this reason, remember to clean the screen regularly to keep it looking sharp.
•   Don't sit too close to the screen and make sure to sit with good posture.  Keep the computer about an arm's length away from your face and sit with your back straight and tall.
•   Adjust the lighting in the room to find what is most comfortable for your eyes.  Everyone has individual preferences when it comes to background lighting.  Experiment with dimmer or brighter lighting to see which is more comfortable for you.  Also make sure to reduce glare.
•   If you are using a computer for long periods of time most days of the week, an eye doctor may recommend computer glasses.  These lenses are designed specifically for using the computer and they will be different from your normal, everyday glasses.
If you or an aging loved one are in need of senior care services in Huntington, NY or the surrounding areas, contact the caring professionals at Star Multi Care Services today at (631)956-8835. We are the Right Choice for Home Health Care Services!
Source: http://healthland.time.com/2012/09/13/computer-eye-strain-explained-and-how-to-avoid-it/
Stephen Sternbach has been the Chairman of the Board of Directors, President, and Chief Executive Officer of Star Multi Care Services since 1987. After the sale of the New York and New Jersey operations of Star Multi Care Services, Sternbach brought the company private where he remains President and CEO of this newly developed $22M home healthcare company. With Sternbach at the helm, Star Multi Care Services employs more than 550 employees, in six offices throughout Florida, Pennsylvania, Ohio and New York.

From 1978 to 1986, Sternbach was associated with Automated Data Processing, Inc. ("ADP")–a provider of information services, where he held several marketing positions before becoming the Director of Sales.

1999-2008 Sternbach was an active participant on the Board of Directors for Proginet–a computer software company based in Garden City, New York. He also served on the Board of Trustees of the Long Island Chapter of the National Multiple Sclerosis Society from 1996-2002.

In 1996, Stephen Sternbach was named "Entrepreneur of the Year" by Ernst & Young, Paine Webber and NASDAQ. Sternbach was also named in Crain's New York Business Article, "40 Under 40" Successful Business Executives/Future Business Leaders in 1995. While maintaining a diversity of business and personal interests, Sternbach concentrated most of his efforts over the past 28 years towards continuously improving the quality of services delivered by the Star Multi Care Services' family of companies.

Stephen Sternbach holds a Master of Public Administration from Syracuse University – Maxwell School of Public Administration and a Bachelor of Arts in Industrial Relations and Personnel Administration from Ithaca College.
Latest posts by Stephen Sternbach (see all)