Caregiver in Massapequa NY
According to the AARP, there are approximately 40 million family caregivers who do not receive any form of payment for their care efforts. Of these, 60 percent of them also maintained a job. If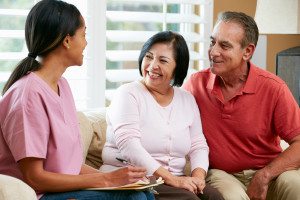 you are one of these caregivers, you have likely realized just how challenging trying to balance the responsibilities of both can be, especially if you are one of the millions who are a part of the so-called "sandwich generation", that is, caring for your aging parents and raising children. There may come a point when your parents' needs progress to the point at which you no longer feel that you can manage all of them along with keeping up with your career, potentially influencing you to quit your job so that you can become a full-time caregiver.
Becoming a full-time caregiver is an exceptional way to dedicate yourself completely to ensuring that your loved ones get the care and assistance that they need on a daily basis to live the safest, happiest, healthiest, and most comfortable lifestyle possible throughout their aging years. It is also a major change in your life that requires preparation and planning in order to handle it successfully.
Use these tips to help you prepare to become a full-time caregiver for your elderly parents:
• Talk it through. This is not a decision that you should make completely on your own. Taking the time to talk through it with people who you trust will help you to gain better perspective on the situation and bring to mind issues and details that you may not have thought of yourself. Rely on your partner, your siblings, your best friend, or even the members of a caregiver support group to help you work through your decision.
• Talk to your employer. Leaving your job can be a big step and one that you should not take lightly. There may be alternatives to you leaving completely, so take the time to talk to your employer before you make any final decisions. Consider options such as paid or unpaid family leave, working from home, or working part-time. It is important that you are upfront and honest with your employer as early in your care journey as possible to keep him as your ally rather than starting to decline in your productivity and success rating, and then explain the situation.
• Consider expenses. Spend some time closely evaluating your expenses, including your personal household expenses and the costs associated with your care efforts for your loved ones. Determine how much your parents can contribute to these costs and then how much you will be responsible for yourself. Look at your savings and decide if this is a plausible option or if you need more time to save and make arrangements before you can start this full-time journey.
• Look for help. For many caregivers, the compulsion to go full time is recognizing that there are more extensive needs than they can fulfill while still working. Look into other forms of assistance, such as asking for more involvement from your siblings, transitioning your loved ones into living in your home to reduce expenses and keep them closer for easier care, or hiring a home care provider to take on some tasks so that you can continue to work until you have built up enough savings to confidently take this step in your care experience.
If you or an aging loved one are in need of caregiver services in Massapequa, NY or the surrounding areas, contact the caring professionals at Star Multi Care Services today at (631)956-8835. We are the Right Choice for Home Health Care Services!
Stephen Sternbach has been the Chairman of the Board of Directors, President, and Chief Executive Officer of Star Multi Care Services since 1987. After the sale of the New York and New Jersey operations of Star Multi Care Services, Sternbach brought the company private where he remains President and CEO of this newly developed $22M home healthcare company. With Sternbach at the helm, Star Multi Care Services employs more than 550 employees, in six offices throughout Florida, Pennsylvania, Ohio and New York.

From 1978 to 1986, Sternbach was associated with Automated Data Processing, Inc. ("ADP")–a provider of information services, where he held several marketing positions before becoming the Director of Sales.

1999-2008 Sternbach was an active participant on the Board of Directors for Proginet–a computer software company based in Garden City, New York. He also served on the Board of Trustees of the Long Island Chapter of the National Multiple Sclerosis Society from 1996-2002.

In 1996, Stephen Sternbach was named "Entrepreneur of the Year" by Ernst & Young, Paine Webber and NASDAQ. Sternbach was also named in Crain's New York Business Article, "40 Under 40" Successful Business Executives/Future Business Leaders in 1995. While maintaining a diversity of business and personal interests, Sternbach concentrated most of his efforts over the past 28 years towards continuously improving the quality of services delivered by the Star Multi Care Services' family of companies.

Stephen Sternbach holds a Master of Public Administration from Syracuse University – Maxwell School of Public Administration and a Bachelor of Arts in Industrial Relations and Personnel Administration from Ithaca College.
Latest posts by Stephen Sternbach (see all)