Caregiver in Huntington NY
If you are like many family caregivers, you are always looking for ways to pursue your care goals for your aging parent that are fun, engaging, and enable you to bring in other members of your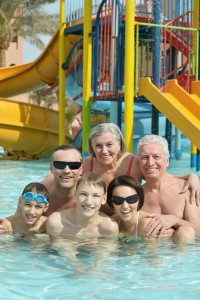 family for a multigenerational care experience. Making your care approach for your aging parents something that involves your children and your partner, and possibly even other members of your extended family, can offer a wide variety of benefits including not forcing you to spread out your time and effort as much so that you can feel like you are giving more of yourself to all of the different people who rely on you, creating treasured memories that you will look back on fondly even well after your caregiver journey comes to an end, and allowing the different generations of the family to benefit from each other in tangible ways, including teaching each other new things and getting the emotional boost of spending time together.
Swimming is a favorite activity for many age groups, but even when the spring weather starts to warm up it is often far too chilly to be outside swimming in a pool or even at the beach. This does not mean, however, that you cannot let your family enjoy the exercise, mental stimulation, and memory building of swimming. Heading to an indoor water park is a fantastic way to bring all of these benefits into your usual care routine even when the weather outside is not warm enough for swimming.
As with anything in your caregiver journey, it is important that you take the time to plan carefully so that your visit to the indoor water park is safe, healthy, and comfortable for everyone involved. Use these tips to help you plan an excursion that everyone can enjoy together:
Review attractions. Before you go, consider checking the website or even online video sharing sites to see what types of attractions are offered at the park. This will help you to determine what types of activities are appropriate for the different people in your family and allow you to plan out your day.
Consider accommodations. Do not forget how tiring swimming can be. Review the accommodations that are available in the area and consider making reservations so that you can spend the night after your visit close by. Many of these parks have hotels attached, so consider making your visit a mini-vacation so no one is exhausted on the way home, and if your aging parent gets tired you can simply bring her back to the room to rest while the rest of the family continues to enjoy the day.
Use safety gear. Just because you are indoors does not mean that the water is not just as potentially dangerous as it would be if you were outside. Make sure that every member of your family takes the proper safety precautions before heading to the water park. This includes wearing water shoes, proper swimming attire, and lifejackets if necessary. Make sure that everyone walks rather than runs, and do not swim immediately after eating.
If you or an aging loved one are in need of caregiver services in Huntington, NY or the surrounding areas, contact the caring professionals at Star Multi Care Services today at (631)956-8835. We are the Right Choice for Home Health Care Services!
Stephen Sternbach has been the Chairman of the Board of Directors, President, and Chief Executive Officer of Star Multi Care Services since 1987. After the sale of the New York and New Jersey operations of Star Multi Care Services, Sternbach brought the company private where he remains President and CEO of this newly developed $22M home healthcare company. With Sternbach at the helm, Star Multi Care Services employs more than 550 employees, in six offices throughout Florida, Pennsylvania, Ohio and New York.

From 1978 to 1986, Sternbach was associated with Automated Data Processing, Inc. ("ADP")–a provider of information services, where he held several marketing positions before becoming the Director of Sales.

1999-2008 Sternbach was an active participant on the Board of Directors for Proginet–a computer software company based in Garden City, New York. He also served on the Board of Trustees of the Long Island Chapter of the National Multiple Sclerosis Society from 1996-2002.

In 1996, Stephen Sternbach was named "Entrepreneur of the Year" by Ernst & Young, Paine Webber and NASDAQ. Sternbach was also named in Crain's New York Business Article, "40 Under 40" Successful Business Executives/Future Business Leaders in 1995. While maintaining a diversity of business and personal interests, Sternbach concentrated most of his efforts over the past 28 years towards continuously improving the quality of services delivered by the Star Multi Care Services' family of companies.

Stephen Sternbach holds a Master of Public Administration from Syracuse University – Maxwell School of Public Administration and a Bachelor of Arts in Industrial Relations and Personnel Administration from Ithaca College.
Latest posts by Stephen Sternbach (see all)