Home Care in Melville NY
As radiant as the lights pictured behind her, Grace Okyere has been a Shining Star at Star Multi Care Services since 2008.  Recently named, the Star Employee of the Year by the New York office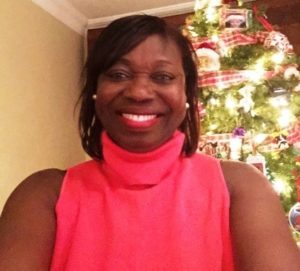 staff, she was nominated due to the high quality of her performance as a Home Health Aide.
Grace says that she became a Home Health Aide after moving to the United States from Ghana, Africa 23 years ago.  She was one of eight children and took the lead on her father's care after he suffered a stroke.  She wanted to continue in a profession which allowed her to use her care giving talents.
Grace seems to take the lead on everything she does as she has been blessed with many talents.  In addition to the exemplary dedication and quality care she provides to her clients, she is a talented singer and acoustic guitar player.  In her spare time she enjoys going to church and Broadway shows in Manhattan.
While waiting for a train in New York, she struck up a conversation about home care agencies with a woman who recommended Star Multi Care as they were one of the few agencies providing health insurance.  Grace applied immediately and she has been a Shining Star ever since.
The Star Employee of the Year Program was created from the Star Employee of the Month Program which is the Company's way of recognizing individual employees with exemplary work performance.  A nomination must be made by a co-worker, supervisor or client and each month nominee submissions are reviewed and deliberated.  Once selected, the Employee of the Month receives a certificate, monetary award and a personalized letter from the President/CEO of the company, Stephen Sternbach.
"I have been recognizing our employees for years, Stephen said.  "I think it is important that they are awarded for their hard work and dedication to our patients.  Employees have the ability to make or break a company and luckily ours are of the caliber that makes our Company so great", he continued.
Of the twelve Employees of the Month, each Year the Company selects an Employee of the Year who receives a feature story in the Company Newsletter as well as another monetary gift.  Grace Okyere has been selected as Star Multi Care's Employee of the Year for FY 2015-2016 and we are thrilled to have her on our team.  Congratulations Grace!
If you or an aging loved one are in need of 

home care in Melville, NY

 or the surrounding areas, contact the caring professionals at Star Multi Care Services today at (631)956-8835. We are the Right Choice for Home Health Care Services!
Stephen Sternbach has been the Chairman of the Board of Directors, President, and Chief Executive Officer of Star Multi Care Services since 1987. After the sale of the New York and New Jersey operations of Star Multi Care Services, Sternbach brought the company private where he remains President and CEO of this newly developed $22M home healthcare company. With Sternbach at the helm, Star Multi Care Services employs more than 550 employees, in six offices throughout Florida, Pennsylvania, Ohio and New York.

From 1978 to 1986, Sternbach was associated with Automated Data Processing, Inc. ("ADP")–a provider of information services, where he held several marketing positions before becoming the Director of Sales.

1999-2008 Sternbach was an active participant on the Board of Directors for Proginet–a computer software company based in Garden City, New York. He also served on the Board of Trustees of the Long Island Chapter of the National Multiple Sclerosis Society from 1996-2002.

In 1996, Stephen Sternbach was named "Entrepreneur of the Year" by Ernst & Young, Paine Webber and NASDAQ. Sternbach was also named in Crain's New York Business Article, "40 Under 40" Successful Business Executives/Future Business Leaders in 1995. While maintaining a diversity of business and personal interests, Sternbach concentrated most of his efforts over the past 28 years towards continuously improving the quality of services delivered by the Star Multi Care Services' family of companies.

Stephen Sternbach holds a Master of Public Administration from Syracuse University – Maxwell School of Public Administration and a Bachelor of Arts in Industrial Relations and Personnel Administration from Ithaca College.
Latest posts by Stephen Sternbach (see all)