Caregiver in Massapequa NY
The thought that your aging parent needs to undergo heart surgery can be daunting. Though this is a routine procedure that doctors perform regularly, it can be frightening to think of your aging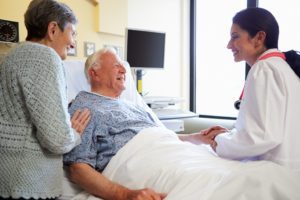 loved one having to go through the process. As a caregiver, it is your responsibility to help your loved one not only prepare for the surgery effectively but also get through it and the recovery in the best way possible. It is important to prepare for this recovery period before the surgery even happens so that you can feel confident that you are ready to help your loved one heal and get back on the road to their normal lifestyle as quickly as possible.
Use these tips to help your parent recover after heart surgery:
Be supportive. Your parent has just gone through a major procedure and may be experiencing serious emotional reactions to it. Be supportive and make sure that your parent knows that you are there for them to help them through. Encourage them to work through their emotions and address them in healthy, constructive ways. If they seem to be experiencing excessive emotional turmoil related to their surgery, encourage your parent to get the help that they need from a support group or counselor
Encourage a normal routine. Even though it will take some time for your parent to recover, they should not spend all of their time in bed. Instead, they should get back to living a normal lifestyle as much as possible. This means establishing and following a healthy sleep schedule, getting up in the morning and getting dressed, and doing normal activities such as shopping, cleaning, and cooking as their energy dictates
Encourage activity. Your parent needs to work their heart in order for it to heal. Just like any other muscle in the body, the heart needs regular challenges to stay healthy. Talk to your parent's doctor about how much activity is safe and healthy for your loved one, and get recommendations for activities that they can do at different junctures in their recovery process. Encourage them to enjoy activity every day so that they can bring their body back to health
Get enough rest. Even though your parent needs to be active regularly in order to get their heart healthy again, it is essential that they not overtax their body. It is easy for a person recovering from heart surgery to "overdo it" and put themselves at risk for further injury, infection, or illness. Your parent should take rests in the mid-morning as well as the mid-afternoon. They should not, however, sleep so much that it interferes with their ability to get enough sleep at night
Encourage compliance. Compliance with medications and treatments is essential for your parent to get through their recovery period successfully and achieve full health again. Offer reminders about these medications and treatments so that your parent remembers to follow through with them accurately and consistently.
If you or an aging loved one are in need of

caregiver services in Massapequa, NY

or the surrounding areas, contact the caring professionals at Star Multi Care Services today at (631)956-8835. We are the Right Choice for Home Health Care Services!
Source:http://www.heart.org/HEARTORG/Caregiver/Resources/CaringforSomeoneAfterHeartSurgery/Caring-for-Someone-After-Heart-Surgery_UCM_301857_Article.jsp
Stephen Sternbach has been the Chairman of the Board of Directors, President, and Chief Executive Officer of Star Multi Care Services since 1987. After the sale of the New York and New Jersey operations of Star Multi Care Services, Sternbach brought the company private where he remains President and CEO of this newly developed $22M home healthcare company. With Sternbach at the helm, Star Multi Care Services employs more than 550 employees, in six offices throughout Florida, Pennsylvania, Ohio and New York.

From 1978 to 1986, Sternbach was associated with Automated Data Processing, Inc. ("ADP")–a provider of information services, where he held several marketing positions before becoming the Director of Sales.

1999-2008 Sternbach was an active participant on the Board of Directors for Proginet–a computer software company based in Garden City, New York. He also served on the Board of Trustees of the Long Island Chapter of the National Multiple Sclerosis Society from 1996-2002.

In 1996, Stephen Sternbach was named "Entrepreneur of the Year" by Ernst & Young, Paine Webber and NASDAQ. Sternbach was also named in Crain's New York Business Article, "40 Under 40" Successful Business Executives/Future Business Leaders in 1995. While maintaining a diversity of business and personal interests, Sternbach concentrated most of his efforts over the past 28 years towards continuously improving the quality of services delivered by the Star Multi Care Services' family of companies.

Stephen Sternbach holds a Master of Public Administration from Syracuse University – Maxwell School of Public Administration and a Bachelor of Arts in Industrial Relations and Personnel Administration from Ithaca College.
Latest posts by Stephen Sternbach (see all)