Home Care in Stonybrook NY
The hot, humid days of summer call for a refreshing, thirst-quenching drink. If tea is usually your loved one's go-to drink, they will also enjoy a cold glass of iced tea. This drink will not only help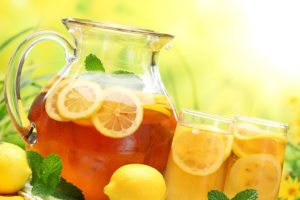 cool them down, but also has several health perks. Older adults who are in need of a home care service due to a chronic illness or pain may also appreciate what iced tea can do for their bodies.
Benefits of Drinking Iced Tea
Iced tea can be brewed out of your elderly parent's favorite tea and cooled off with some ice for a drink that they will not only enjoy, but that is also good for you. Here are a few of the benefits to drinking iced tea for people of all ages, but especially the elderly population.
Hydrates the body. Elders lose water in their bodies at a much faster rate than younger adults. This causes them to become dehydrated much quicker as well. If your loved one has a difficult time gulping down 8 big glasses of water per day, iced tea may be the perfect substitute. Some medications may also cause the elderly to become dehydrated quickly, so drinking unsweetened iced tea can be as effective as drinking water.
Full of antioxidants. Tea in general is packed with antioxidants. Homemade brewed iced tea will give your loved one plenty of these antioxidants to help keep their bodies healthy. However, be cautious of store-bought iced tea because it does not have as many antioxidants that the homemade variety does.
Increases weight loss. Older adults who are overweight or obese may be able to lose weight by drinking iced tea, along with a healthy diet and exercise. Metabolism drastically decreases as the body ages, but thanks to the compound catechins that are found in tea, the elderly are able to lose weight much easier.
Helps the body cool off. Most people cool off during hot summer weather by sweating, but elders are unable to do this. The reason is because they lose sweat glands as they get older. Drinking cold beverages, such as iced tea, can keep seniors cool when the days are hot.
Prevents certain health conditions. Iced tea not only tastes great, but can also prevent illnesses or health problems for older adults. This includes preventing cancer, reducing the risk of heart disease, lower high cholesterol, and prevents diabetes.
If your elderly loved one is looking for a cool drink to sip this summer, iced tea is the perfect solution.
If you or an aging loved one are in need of

home care in Stonybrook, NY

or the surrounding areas, contact the caring professionals at Star Multi Care Services today at (631)956-8835. We are the Right Choice for Home Health Care Services!
Source:
http://drhealthbenefits.com/food-bevarages/beverages/tea/health-benefits-of-iced-tea
Stephen Sternbach has been the Chairman of the Board of Directors, President, and Chief Executive Officer of Star Multi Care Services since 1987. After the sale of the New York and New Jersey operations of Star Multi Care Services, Sternbach brought the company private where he remains President and CEO of this newly developed $22M home healthcare company. With Sternbach at the helm, Star Multi Care Services employs more than 550 employees, in six offices throughout Florida, Pennsylvania, Ohio and New York.

From 1978 to 1986, Sternbach was associated with Automated Data Processing, Inc. ("ADP")–a provider of information services, where he held several marketing positions before becoming the Director of Sales.

1999-2008 Sternbach was an active participant on the Board of Directors for Proginet–a computer software company based in Garden City, New York. He also served on the Board of Trustees of the Long Island Chapter of the National Multiple Sclerosis Society from 1996-2002.

In 1996, Stephen Sternbach was named "Entrepreneur of the Year" by Ernst & Young, Paine Webber and NASDAQ. Sternbach was also named in Crain's New York Business Article, "40 Under 40" Successful Business Executives/Future Business Leaders in 1995. While maintaining a diversity of business and personal interests, Sternbach concentrated most of his efforts over the past 28 years towards continuously improving the quality of services delivered by the Star Multi Care Services' family of companies.

Stephen Sternbach holds a Master of Public Administration from Syracuse University – Maxwell School of Public Administration and a Bachelor of Arts in Industrial Relations and Personnel Administration from Ithaca College.
Latest posts by Stephen Sternbach (see all)