Elder Care in Massapequa NY
Dry mouth is a common ailment among elderly adults.  Certain chronic medical conditions can cause it as can many medications.  There are several medications, both over the counter and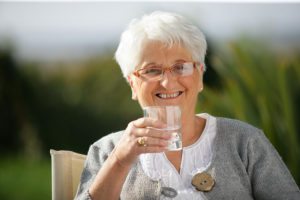 prescription, that list dry mouth as a common side effect.  While dry mouth may just seem like an uncomfortable side effect, the truth is that untreated dry mouth can lead to other complications, some of which can be serious.  If you are a caregiver for an elderly loved one who suffers from dry mouth, read on to learn about the many complications of dry mouth and what you can do about them.
What are the complications of dry mouth?
Dry mouth can lead to more plaque, tooth decay, and even gum disease.  These conditions can even lead to tooth loss.  While these conditions are treatable by a dentist, they can result in needing costly and painful procedures.
Mouth sores, such as canker sores, can be caused by dry mouth.  These ulcers in the mouth can cause pain and swelling and make it difficult or uncomfortable to eat and drink.
Dry mouth can lead to thrush, or yeast infections, inside the mouth which can cause pain and/or difficulty swallowing.  A thrush infection usually needs to be treated with anti fungal medications.
One of the more serious complications from dry mouth is poor nutrition.  This happens because those with dry mouth may have difficulty chewing and swallowing and may have a decreased appetite.
Other complications include coated tongue, cracked lips, and sores in the corners of the mouth.
How can I help my loved one to relieve their dry mouth?
There are many ways to treat dry mouth so that your loved one's dry mouth does not lead to complications.  Your loved one's doctor or dentist may recommend that they use an over the counter oral rinse that can help to act as a saliva substitute.  In addition, your loved one's doctor may suggest changing medications to prevent serious dry mouth.  At home, it is a great idea for you to encourage your loved one to sip water or suck on ice chips to moisten the mouth.  You can also suggest that they run a humidifier in their home or chew sugar free gum.  Sugary or acidic foods or caffeinated beverages can make dry mouth worse, so they are best avoided.  Also be sure that your loved one has great dental hygiene habits that include regular brushing, flossing, and using a mouthwash.
If you or an aging loved one are in need of

elder care in Massapequa, NY

or the surrounding areas, contact the caring professionals at Star Multi Care Services today at (631)956-8835. We are the Right Choice for Home Health Care Services!
Source: http://www.mayoclinic.org/diseases-conditions/dry-mouth/basics/complications/con-20035499
Stephen Sternbach has been the Chairman of the Board of Directors, President, and Chief Executive Officer of Star Multi Care Services since 1987. After the sale of the New York and New Jersey operations of Star Multi Care Services, Sternbach brought the company private where he remains President and CEO of this newly developed $22M home healthcare company. With Sternbach at the helm, Star Multi Care Services employs more than 550 employees, in six offices throughout Florida, Pennsylvania, Ohio and New York.

From 1978 to 1986, Sternbach was associated with Automated Data Processing, Inc. ("ADP")–a provider of information services, where he held several marketing positions before becoming the Director of Sales.

1999-2008 Sternbach was an active participant on the Board of Directors for Proginet–a computer software company based in Garden City, New York. He also served on the Board of Trustees of the Long Island Chapter of the National Multiple Sclerosis Society from 1996-2002.

In 1996, Stephen Sternbach was named "Entrepreneur of the Year" by Ernst & Young, Paine Webber and NASDAQ. Sternbach was also named in Crain's New York Business Article, "40 Under 40" Successful Business Executives/Future Business Leaders in 1995. While maintaining a diversity of business and personal interests, Sternbach concentrated most of his efforts over the past 28 years towards continuously improving the quality of services delivered by the Star Multi Care Services' family of companies.

Stephen Sternbach holds a Master of Public Administration from Syracuse University – Maxwell School of Public Administration and a Bachelor of Arts in Industrial Relations and Personnel Administration from Ithaca College.
Latest posts by Stephen Sternbach (see all)