Caregiver in Rockville Center NY
The five senses are all important in their own way when it comes to interacting with the world and receiving valuable stimulation from what is going on around you. One sense that is often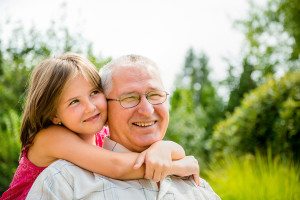 overlooked for its importance, however, is the sense of touch. According to research, the sense of touch is one of the most powerful means of managing your emotions, and the lack of this stimulation can mean serious consequences for your mental, emotional, and even physical health. As a caregiver for an elderly adult, using touch as a means of stress relief can be exceptionally beneficial to helping you maintain better mental, emotional, and physical health, and give you a greater sense of control and confidence in your ability to handle the challenges that come your way in your care journey.
Research shows that receiving touch from the people that you love is not just about feeling happy and content. Regular touch also helps to reduce the perception of pain, improves pulmonary health, and boosts the immune system for lower instance of illness or infection. It also lowers both blood pressure and heartrate, creating a sense of calm and reduced stress. This means that just by focusing on increasing the amount of human contact that you get on a regular basis can make a tremendous difference in your health, your quality of life, and the quality of the care that you give your aging parent.
Let these ideas inspire you for ways that you can reduce your caregiver stress through the sense of touch:
Cuddle in the morning. When you are a caregiver it can seem like you never get enough sleep and every moment is precious. Setting your alarm just a few minutes earlier, however, can give you some quiet time to curl up with your partner and just enjoy the contact. This starts your day at a less stressful place and encourages you to feel calmer and more relaxed throughout the day.
Hug your children. Take a few seconds before you leave to make sure that you hug your children. This is beneficial for both of you. Just this one simple gesture will make both of you feel more connected and encourage a stronger relationship, while also offering all of the benefits of regular physical touch. Keep in mind that getting enough touch is vital for people of all ages, but by the time that people get out of their young childhood stages they get a fraction of the amount of touch that they once did.
Touch your parent. When you are caring for your parent, do not forget the importance of touching them regularly. This does not just mean while helping them walk or assisting with tasks such as dressing. Make it a point to offer loving, compassionate touch throughout the day, whether it is a hug when you first see them or a pat on the hand or back when you walk past them. This will give you the calming, stress-relieving benefits of touch, but will also reaffirm your relationship with your parent and make your bond closer.
If you or an aging loved one are in need of

caregiver services in Rockville Center, NY

or the surrounding areas, contact the caring professionals at Star Multi Care Services today at (631)956-8835. We are the Right Choice for Home Health Care Services!
Stephen Sternbach has been the Chairman of the Board of Directors, President, and Chief Executive Officer of Star Multi Care Services since 1987. After the sale of the New York and New Jersey operations of Star Multi Care Services, Sternbach brought the company private where he remains President and CEO of this newly developed $22M home healthcare company. With Sternbach at the helm, Star Multi Care Services employs more than 550 employees, in six offices throughout Florida, Pennsylvania, Ohio and New York.

From 1978 to 1986, Sternbach was associated with Automated Data Processing, Inc. ("ADP")–a provider of information services, where he held several marketing positions before becoming the Director of Sales.

1999-2008 Sternbach was an active participant on the Board of Directors for Proginet–a computer software company based in Garden City, New York. He also served on the Board of Trustees of the Long Island Chapter of the National Multiple Sclerosis Society from 1996-2002.

In 1996, Stephen Sternbach was named "Entrepreneur of the Year" by Ernst & Young, Paine Webber and NASDAQ. Sternbach was also named in Crain's New York Business Article, "40 Under 40" Successful Business Executives/Future Business Leaders in 1995. While maintaining a diversity of business and personal interests, Sternbach concentrated most of his efforts over the past 28 years towards continuously improving the quality of services delivered by the Star Multi Care Services' family of companies.

Stephen Sternbach holds a Master of Public Administration from Syracuse University – Maxwell School of Public Administration and a Bachelor of Arts in Industrial Relations and Personnel Administration from Ithaca College.
Latest posts by Stephen Sternbach (see all)