Home Care in Huntington NY
Wandering is a symptom of Alzheimer's disease that usually does not occur until the later stages of the disease. It can be stressful for the caregiver since the elder frequently leaves their familiar surroundings for more unknown areas. This not only can be alarming for their family caregivers, but it can also cause confusion and anxiety among the senior.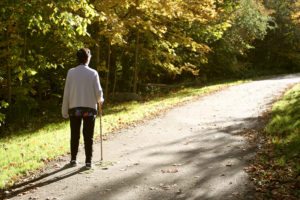 Your loved one will eventually need full time supervision, preferably from a professional elderly care provider. Below are some of the primary reasons for this behavior, as well as what can be done to prevent it from happening.
Causes
Alzheimer's disease can affect the memory of its victim so severely that they will end up forgetting familiar places and surroundings. This causes the elder to become scared and confused, resulting in having them wander away from their home. Other reasons the senior may begin to wander include:
Side effects from medication
Curiosity
Disorientation and loss of memory
Boredom or impatience
Tries to show emotion, like fear, loneliness, and isolation
Certain items or routines may trigger certain memories, such as a pair of shoes or something that signals that it is time to go outside
Being in a new environment or situation
Another reason an elder with Alzheimer's disease may also have something to do with being surrounded by too much stimuli. When there is too much noise or too many conversations taking place at once, the senior may become overwhelmed. All of this activity can cause the elder to become anxious, which can lead to constant pacing movements.
Prevention
It is nearly impossible to completely prevent your loved one from wandering, but there are ways to keep them safe in certain designated locations. Here are a few ways to help reduce this behavior from happening.
Distract them. Your loved one may be wandering out of boredom, so give them something to do. It could be a basket of laundry to fold, a game to play, or other simple tasks around the home.
Explore with them. Even the elder's home can seem foreign to them if they have Alzheimer's disease. They may forget where the bathroom, kitchen, or living room is, causing them to wander until they find what they are looking for. Take a moment each day to patiently show your loved one around the home, pointing out where each room is located.
Label everything. Take some of the anxiety out of their daily routines by making it easy to find items they may need. To do this, try placing labels or pictures on drawers and doors where certain items could be found. If you notice that they are wandering, try offering them some water, a snack, or whatever else they may be looking for.
These tips will not entirely prevent wandering from occurring, but they will reduce the chances of it happening.
If you or an aging loved one are in need of

home care in Huntington, NY

or the surrounding areas, contact the caring professionals at Star Multi Care Services today at (631)956-8835. We are the Right Choice for Home Health Care Services!
Source:  http://www.alzheimersreadingroom.com/2016/05/alzheimers-wandering-why-it-happens.html
Stephen Sternbach has been the Chairman of the Board of Directors, President, and Chief Executive Officer of Star Multi Care Services since 1987. After the sale of the New York and New Jersey operations of Star Multi Care Services, Sternbach brought the company private where he remains President and CEO of this newly developed $22M home healthcare company. With Sternbach at the helm, Star Multi Care Services employs more than 550 employees, in six offices throughout Florida, Pennsylvania, Ohio and New York.

From 1978 to 1986, Sternbach was associated with Automated Data Processing, Inc. ("ADP")–a provider of information services, where he held several marketing positions before becoming the Director of Sales.

1999-2008 Sternbach was an active participant on the Board of Directors for Proginet–a computer software company based in Garden City, New York. He also served on the Board of Trustees of the Long Island Chapter of the National Multiple Sclerosis Society from 1996-2002.

In 1996, Stephen Sternbach was named "Entrepreneur of the Year" by Ernst & Young, Paine Webber and NASDAQ. Sternbach was also named in Crain's New York Business Article, "40 Under 40" Successful Business Executives/Future Business Leaders in 1995. While maintaining a diversity of business and personal interests, Sternbach concentrated most of his efforts over the past 28 years towards continuously improving the quality of services delivered by the Star Multi Care Services' family of companies.

Stephen Sternbach holds a Master of Public Administration from Syracuse University – Maxwell School of Public Administration and a Bachelor of Arts in Industrial Relations and Personnel Administration from Ithaca College.
Latest posts by Stephen Sternbach (see all)