Senior Care in Rockville Center NY
Your parent has always been a keepsake kind of person. Every vacation ended up with a bag of mementos making their way back home. Each birthday party was marked by a symbolic token. On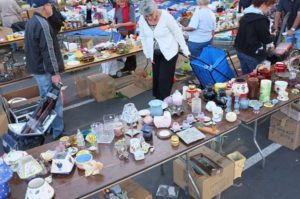 top of those, your parent got into collectables. The collection of vases, dishes and pottery items along with the caps from almost every state in America has become somewhat overwhelming. Counters, sinks and even the stove seem to be buried under piles of unknown. This is the point where an affinity for collecting becomes hoarding—when you can no longer use the home in a functional matter.
Why the Elderly are Prone
In addition to accumulation, hoarders are unable to relinquish. It's the lack of ability to "let go" that clearly defines someone with this disorder and why the elderly are at risk. Holding on can be a form of control when everything else going on in their life feels out of their control. They may have lost their driver's license due to safety issues. They may be slowly losing their ability to take care of themselves. Their home environment may have changed and they may be suffering from a sense of loneliness because they are living alone for the first time in many years.
Helping them Find a Way Out
Remember that what appears to you and others as clutter are treasures and memories to your parent. If control, and loss of, is part of the issue, arriving with a group of friends and family to help them de-clutter is probably not going to be looked on with appreciation by your parent. Third-party intervention may be the best bet as far as addressing the issue conversationally. If your parent has developed a relationship with their senior care provider, consider asking them to address the issue with subtle observations. They are enough removed to not make your loved one uncomfortable, yet close enough that your parent will feel they can communicate. Once a date is set, reassure your parent that their feelings will be honored and that you'll be there with them every step of the way. Make the day seem like a celebration by inviting friends and family that are helping to bring a dish over for a potluck. Place items in one of three boxes—keep, give away, or throw away—and enjoy a meal shared while making a space a home.
If you or an aging loved one are in need of senior care in Rockville Center, NY or the surrounding areas, contact the caring professionals at Star Multi Care Services today at (631)956-8835. We are the Right Choice for Home Health Care Services!
Stephen Sternbach has been the Chairman of the Board of Directors, President, and Chief Executive Officer of Star Multi Care Services since 1987. After the sale of the New York and New Jersey operations of Star Multi Care Services, Sternbach brought the company private where he remains President and CEO of this newly developed $22M home healthcare company. With Sternbach at the helm, Star Multi Care Services employs more than 550 employees, in six offices throughout Florida, Pennsylvania, Ohio and New York.

From 1978 to 1986, Sternbach was associated with Automated Data Processing, Inc. ("ADP")–a provider of information services, where he held several marketing positions before becoming the Director of Sales.

1999-2008 Sternbach was an active participant on the Board of Directors for Proginet–a computer software company based in Garden City, New York. He also served on the Board of Trustees of the Long Island Chapter of the National Multiple Sclerosis Society from 1996-2002.

In 1996, Stephen Sternbach was named "Entrepreneur of the Year" by Ernst & Young, Paine Webber and NASDAQ. Sternbach was also named in Crain's New York Business Article, "40 Under 40" Successful Business Executives/Future Business Leaders in 1995. While maintaining a diversity of business and personal interests, Sternbach concentrated most of his efforts over the past 28 years towards continuously improving the quality of services delivered by the Star Multi Care Services' family of companies.

Stephen Sternbach holds a Master of Public Administration from Syracuse University – Maxwell School of Public Administration and a Bachelor of Arts in Industrial Relations and Personnel Administration from Ithaca College.
Latest posts by Stephen Sternbach (see all)