Elderly Care in Rockville Center NY
One of the things that family caregivers may not think about right away is the potential need for outside help. Having other family members or even elderly care providers available to pitch in with general household tasks can make life so much easier for both you and your elderly loved one.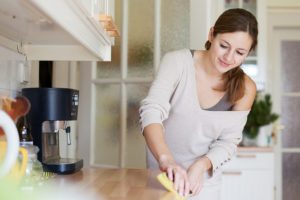 Yard Work
Your elderly loved one may enjoy getting out into the yard or garden and taking care of extremely light duties, but she may not be able to do as much as she used to do. And it's entirely possible that you're dealing with way too much already to take care of everything that needs to be done. This is definitely a task that you'll want to hand over to someone else.
Cleaning
Perhaps you've noticed that your elderly loved one, who always used to keep a meticulous home, is letting some cleaning tasks slide a bit. You can take care of some of those tasks for her, of course, but it's possible that you're not able to keep up with them along with your other duties, as well. Lowering your expectations can help, as can finding someone else to handle those details for you.
Cooking
Making sure that your elderly loved one is getting the proper nutrition is essential for keeping her healthy. When you've got the time and the ability to cook for her, this might be as simple as making slightly larger batches of your loved one's favorite meals to share. If those elements are lacking, however, cooking from scratch may seem overwhelming. Bringing in extra help can make all the difference.
Basic Household Tasks
Other basic household tasks, like laundry or fixing little issues around the house, still have to be done, whether you or your loved one can do them yourselves or not. In many cases, the answer is simply to find someone else who can handle those random little tasks for you. Taking that step frees you up to be able to take care of the bigger details that you really need and want to focus on for your loved one.
If you even suspect you might need help, it's better to line up that assistance and not need it after all.
If you or an aging loved one are in need of elderly care in Rockville Center, NY or the surrounding areas, contact the caring professionals at Star Multi Care Services today at (631)956-8835. We are the Right Choice for Home Health Care Services!
Stephen Sternbach has been the Chairman of the Board of Directors, President, and Chief Executive Officer of Star Multi Care Services since 1987. After the sale of the New York and New Jersey operations of Star Multi Care Services, Sternbach brought the company private where he remains President and CEO of this newly developed $22M home healthcare company. With Sternbach at the helm, Star Multi Care Services employs more than 550 employees, in six offices throughout Florida, Pennsylvania, Ohio and New York.

From 1978 to 1986, Sternbach was associated with Automated Data Processing, Inc. ("ADP")–a provider of information services, where he held several marketing positions before becoming the Director of Sales.

1999-2008 Sternbach was an active participant on the Board of Directors for Proginet–a computer software company based in Garden City, New York. He also served on the Board of Trustees of the Long Island Chapter of the National Multiple Sclerosis Society from 1996-2002.

In 1996, Stephen Sternbach was named "Entrepreneur of the Year" by Ernst & Young, Paine Webber and NASDAQ. Sternbach was also named in Crain's New York Business Article, "40 Under 40" Successful Business Executives/Future Business Leaders in 1995. While maintaining a diversity of business and personal interests, Sternbach concentrated most of his efforts over the past 28 years towards continuously improving the quality of services delivered by the Star Multi Care Services' family of companies.

Stephen Sternbach holds a Master of Public Administration from Syracuse University – Maxwell School of Public Administration and a Bachelor of Arts in Industrial Relations and Personnel Administration from Ithaca College.
Latest posts by Stephen Sternbach (see all)