Senior Care in Huntington NY
95% of hip fractures, the second leading cause of hospitalization among the elderly, are caused by falling. It's understandable why loss of balance can be a frightening experience for an aging parent. In many instances, it is a slow progression from a sense of slight instability to the need for devices that provide support such as a walker.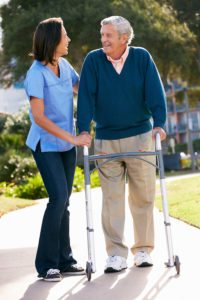 Causes
Low Blood Pressure. The dizziness associated with low blood pressure is most common when an individual goes from a lying or sitting position to standing.
Labyrinthitis. This denotes an inflammation that occurs in the inner ear—the part that is associated with balance. It is usually caused by a viral or bacterial infection.
Benign Paroxysmal Positional Vertigo (BPPV). This refers to the loss of balance and dizziness that occurs with movement of the head.
Meniere's Disease. This is also caused by an inner ear disorder.
Stroke. Stroke can lead to loss of balance and is considered an emergency medical event.
Decrease in Muscle Strength. Loss of muscle leads to loss of balance and is one of the leading causes.
Medications. There are several medications that can cause dizziness. These include medications designed to treat high blood pressure, antidepressants, muscle relaxants and sleeping pills.
Solutions
The solutions will, almost inevitably, depend upon the cause. Low blood pressure can be managed, in many cases, by lifestyle changes including dietary adjustments. In some instances, medication is advised. Labyrinthitis usually resolves itself, though sometimes vestibular rehabilitation is needed. BPPV is often treated with a series of head movements designed to shift particles in the ear. Treatment for Meniere's disease consists of easing symptoms with medication, changes in diet and vestibular rehabilitation. The treatment for stroke is dependent upon the severity. All strokes require immediate hospitalization. Medications can be altered in order to reduce the side-effect of dizziness. Muscle strength can be restored through exercise and weight control programs.
Tai chi and yoga are two exercises that have been found to restore balance. Tai chi has been shown to reduce falls in seniors by up to 45 percent. It increases leg strength, flexibility, range of motion and reflexes—all physical attributes associated with balance.
Senior Care Provider
While your loved one is recovering from loss of balance, it is a good idea to have someone present to help them with mobility, transferring from one area of the house to another, and assisting with the daily activities of living. The good news is that, in almost all cases, there is a solution. It may take some effort, but it will well be worth the return of your parent's confidence.
If you or an aging loved one are in need of senior care in Huntington, NY or the surrounding areas, contact the caring professionals at Star Multi Care Services today at (631)956-8835. We are the Right Choice for Home Health Care Services!
Resources:
www.health.harvard.edu/blog/try-tai-chi-to-improve-balance-avoid-falls-201208235198
www.consumerreports.org/cro/2015/05/drugs-that-can-make-you-dizzy/index.htm
www.cdc.gov/homeandrecreationalsafety/falls/adulthipfx.html
www.ncbi.nlm.nih.gov/pmc/articles/PMC1490246
Stephen Sternbach has been the Chairman of the Board of Directors, President, and Chief Executive Officer of Star Multi Care Services since 1987. After the sale of the New York and New Jersey operations of Star Multi Care Services, Sternbach brought the company private where he remains President and CEO of this newly developed $22M home healthcare company. With Sternbach at the helm, Star Multi Care Services employs more than 550 employees, in six offices throughout Florida, Pennsylvania, Ohio and New York.

From 1978 to 1986, Sternbach was associated with Automated Data Processing, Inc. ("ADP")–a provider of information services, where he held several marketing positions before becoming the Director of Sales.

1999-2008 Sternbach was an active participant on the Board of Directors for Proginet–a computer software company based in Garden City, New York. He also served on the Board of Trustees of the Long Island Chapter of the National Multiple Sclerosis Society from 1996-2002.

In 1996, Stephen Sternbach was named "Entrepreneur of the Year" by Ernst & Young, Paine Webber and NASDAQ. Sternbach was also named in Crain's New York Business Article, "40 Under 40" Successful Business Executives/Future Business Leaders in 1995. While maintaining a diversity of business and personal interests, Sternbach concentrated most of his efforts over the past 28 years towards continuously improving the quality of services delivered by the Star Multi Care Services' family of companies.

Stephen Sternbach holds a Master of Public Administration from Syracuse University – Maxwell School of Public Administration and a Bachelor of Arts in Industrial Relations and Personnel Administration from Ithaca College.
Latest posts by Stephen Sternbach (see all)