Caregiver in Plainview NY
September is National Preparedness Month. As a family caregiver this is the time for you to ensure that your aging parent is properly prepared for the weather emergencies and other disasters that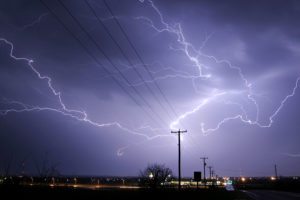 might occur. Proper preparation can help your senior to get through these frightening situations in the best way possible so that they can move forward when the issue ends.
When it comes to preparedness, one of the most important things to keep in mind is that your parent is not just at risk during the acute emergency. It is not as though the moment that the storm ends or the earthquake stops, they are immediately no longer in danger and can go ahead with their lives as if nothing happened. Instead, some of the most pressing dangers actually occur after the storm itself has largely stopped. Understanding the important safety considerations for after a disaster can make a tremendous difference in your parent's ability to stay safe and healthy throughout and after the emergency or disaster event.
Some of the important safety consideration for after a disaster include:
Be aware of road conditions. Before you attempt to travel anywhere after an emergency situation, make sure that you are well aware of any dangerous road conditions that have developed in your path. You might find that roads that were accessible when you went to the shelter or during the last event are washed out and no longer usable. Even a few inches of water can be disastrous for a vehicle and in some situations can sweep your vehicle around.
Do not enter any potentially contaminated buildings. If your parent has reason to believe that a building, including their home, has been contaminated, do not allow them to enter it. They should get in touch with emergency authorities immediately to alert them of the contamination so that they can check the situation and let your parent know if they are able to enter the building safely.
Do not enter any potentially contaminated water. Any water that is around your parent's home might be dangerously contaminated. This counts for both water that is standing and moving. Your parent should not get near any water that has been left by a storm or that has resulted from flooding. This water could contain all kinds of contamination including chemicals, oil, pesticides, and even dangerous items such as metal, glass, and branches. Your parent should also not use or consume anything that has come into contact with this potentially contaminated water. Even food or medications that are in sealed containers should not be consumed if they have been submerged in water after a storm.
Alert authorities to any dangers. If you or your aging parent notices anything potentially dangerous after the storm, such as downed power lines, chemical spills, standing water, or damaged buildings, they should alert the authorities. This can ensure that the proper organizations and authorities make arrangements to resolve these issues and put measures into place to protect public health and safety until this resolution.
If you or an aging loved one are in need of

caregiver services in Plainview, NY

or the surrounding areas, contact the caring professionals at Star Multi Care Services today at (631)956-8835. We are the Right Choice for Home Health Care Services!
https://www.ready.gov/health-safety-guidelines
Stephen Sternbach has been the Chairman of the Board of Directors, President, and Chief Executive Officer of Star Multi Care Services since 1987. After the sale of the New York and New Jersey operations of Star Multi Care Services, Sternbach brought the company private where he remains President and CEO of this newly developed $22M home healthcare company. With Sternbach at the helm, Star Multi Care Services employs more than 550 employees, in six offices throughout Florida, Pennsylvania, Ohio and New York.

From 1978 to 1986, Sternbach was associated with Automated Data Processing, Inc. ("ADP")–a provider of information services, where he held several marketing positions before becoming the Director of Sales.

1999-2008 Sternbach was an active participant on the Board of Directors for Proginet–a computer software company based in Garden City, New York. He also served on the Board of Trustees of the Long Island Chapter of the National Multiple Sclerosis Society from 1996-2002.

In 1996, Stephen Sternbach was named "Entrepreneur of the Year" by Ernst & Young, Paine Webber and NASDAQ. Sternbach was also named in Crain's New York Business Article, "40 Under 40" Successful Business Executives/Future Business Leaders in 1995. While maintaining a diversity of business and personal interests, Sternbach concentrated most of his efforts over the past 28 years towards continuously improving the quality of services delivered by the Star Multi Care Services' family of companies.

Stephen Sternbach holds a Master of Public Administration from Syracuse University – Maxwell School of Public Administration and a Bachelor of Arts in Industrial Relations and Personnel Administration from Ithaca College.
Latest posts by Stephen Sternbach (see all)