Senior Care in Dix Hills NY
George was never one to really pay much attention to his diet. He married his wife, Melinda, when they were both 19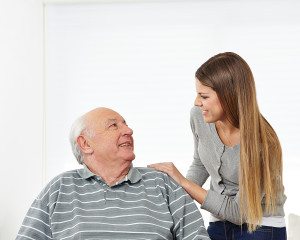 years old. It was a traditional marriage and she was responsible for taking care of the home and preparing meals for him. They both grew up in a much different social climate and that was considered normal to them.
After Melinda passed away, George felt completely lost and alone in the world. Because he didn't pay any attention to the foods she made or the nutritional value they offered, he didn't know what to do in the weeks after his family had returned home and to their own lives. He did the best he could, but he felt overwhelmed and outmatched trying to take care of himself all alone.
As a senior, he began to realize he needed some extra care and assistance. He contacted a couple of home care agencies in the area because he knew a friend who relied on those services many years ago. His friend had been more than thrilled with the support they offered, but he was still a little skeptical.
Within the first couple of weeks George realized he made the right decision.  The caregiver who was placed with him was a woman in her 30s who had a fair amount of experience helping other aging seniors. At first, though, she was more inclined to help him clean the house, assist with laundry, and prepare basic meals. What he didn't realize was she was observing him in his natural environment.  After a couple of weeks, she sat down to talk to him about things he needed to improve for himself.
She said he needed to start eating healthier, getting more exercise, and getting out and being more active in life.   She told him she could help him eat healthier, but he had to be on board with that decision. She also advised him about certain exercises he could begin doing, as long as his doctor said it was okay for him, considering any health issues he may have.
After a few weeks of these encouragements, George actually began feeling better. He felt more energized, more alive, and less depressed and anxious. That inspired him to begin pursuing other interests outside the home.  For seniors just like George, it's important that they take charge of their own health and realize there's still so much life left to be lived, and it's out there just waiting for them.
If you or an aging loved one are in need of senior care services in Dix Hills, NY or the surrounding areas, contact the caring professionals at Star Multi Care Services today at (631)956-8835. We are the Right Choice for Home Health Care Services!
Stephen Sternbach has been the Chairman of the Board of Directors, President, and Chief Executive Officer of Star Multi Care Services since 1987. After the sale of the New York and New Jersey operations of Star Multi Care Services, Sternbach brought the company private where he remains President and CEO of this newly developed $22M home healthcare company. With Sternbach at the helm, Star Multi Care Services employs more than 550 employees, in six offices throughout Florida, Pennsylvania, Ohio and New York.

From 1978 to 1986, Sternbach was associated with Automated Data Processing, Inc. ("ADP")–a provider of information services, where he held several marketing positions before becoming the Director of Sales.

1999-2008 Sternbach was an active participant on the Board of Directors for Proginet–a computer software company based in Garden City, New York. He also served on the Board of Trustees of the Long Island Chapter of the National Multiple Sclerosis Society from 1996-2002.

In 1996, Stephen Sternbach was named "Entrepreneur of the Year" by Ernst & Young, Paine Webber and NASDAQ. Sternbach was also named in Crain's New York Business Article, "40 Under 40" Successful Business Executives/Future Business Leaders in 1995. While maintaining a diversity of business and personal interests, Sternbach concentrated most of his efforts over the past 28 years towards continuously improving the quality of services delivered by the Star Multi Care Services' family of companies.

Stephen Sternbach holds a Master of Public Administration from Syracuse University – Maxwell School of Public Administration and a Bachelor of Arts in Industrial Relations and Personnel Administration from Ithaca College.
Latest posts by Stephen Sternbach (see all)