Elder Care in Stonybrook NY
Promoting independence for your elderly loved one is one of the most important goals of your elder care journey. By helping your parent stay as independent as possible and continue to fulfill as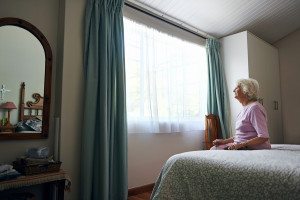 many of her daily tasks on her own as she can, you support good mental and emotional health, and ward off functional decline. Promoting this independence is not just about encouraging your parent to do more things for herself. It is also about understanding her challenges and limitations, and modifying tasks to address those limitations. Simple modifications to basic tasks can mean the difference between your loved one being able to handle these tasks on her own and needing you or her elderly health care services provider to do it for her.
One of the most straightforward tasks that can still challenge elderly adults is dressing. Many seniors cope with physical challenges and limitations that make it more difficult for them to go through the various processes of getting dressed in the morning. This may be because they have lost dexterity in their fingers or they are unable to bend and reach like they used to. Needing help getting dressed, however, can embarrass your parent and make her feel like she is being treated like a child. Equipping her with simple tools and techniques can empower her to overcome her challenges and continue to dress herself in the morning.
Some of the tools that you can integrate into your elder care routine to help make dressing easier for her aging parent include:
• Reachers. Bending over to grab onto a pair of pants and pull them up can be difficult or even impossible for a senior with balance issues or arthritis. This action could cause your parent to fall and injure herself, or cause serious pain. Reachers are essentially long poles with an adjustable clamp on one side and a trigger handle on the other. Your parent simply holds the trigger handle, reaches down with the pole, and grips her pants with the clamp. She can then draw them up her legs until she can grab them with her hand to put them on the rest of the way.
• Zipper aids. A tiny zipper pull can be very difficult for an elderly adult with arthritis or loss of hand strength to grip and pull. Zipper aids lengthen and widen the pull to make it easier to hold onto and to manipulate.
• Elastic shoe ties. Tying shoes poses a variety of challenges for many adults. Replacing traditional shoelaces with elastic shoe ties can eliminate these challenges. Instead of having to reach down and go through the process of tying the shoes, she can just push her feet into them. The help of a shoehorn can make this process even easier.
Of course, some seniors will still not be able to handle dressing completely independently. Your loved one may still need the assistance of her elderly health care services provider to get through some of the steps of dressing. This is absolutely fine and you should still encourage her to do as much on her own as she can to keep her mental and emotional health high and support continued functioning.
If you or an aging loved one are in need of elder care services in Stonybrook, NY or the surrounding areas, contact the caring professionals at Star Multi Care Services today at (631)956-8835. We are the Right Choice for Home Health Care Services!
Stephen Sternbach has been the Chairman of the Board of Directors, President, and Chief Executive Officer of Star Multi Care Services since 1987. After the sale of the New York and New Jersey operations of Star Multi Care Services, Sternbach brought the company private where he remains President and CEO of this newly developed $22M home healthcare company. With Sternbach at the helm, Star Multi Care Services employs more than 550 employees, in six offices throughout Florida, Pennsylvania, Ohio and New York.

From 1978 to 1986, Sternbach was associated with Automated Data Processing, Inc. ("ADP")–a provider of information services, where he held several marketing positions before becoming the Director of Sales.

1999-2008 Sternbach was an active participant on the Board of Directors for Proginet–a computer software company based in Garden City, New York. He also served on the Board of Trustees of the Long Island Chapter of the National Multiple Sclerosis Society from 1996-2002.

In 1996, Stephen Sternbach was named "Entrepreneur of the Year" by Ernst & Young, Paine Webber and NASDAQ. Sternbach was also named in Crain's New York Business Article, "40 Under 40" Successful Business Executives/Future Business Leaders in 1995. While maintaining a diversity of business and personal interests, Sternbach concentrated most of his efforts over the past 28 years towards continuously improving the quality of services delivered by the Star Multi Care Services' family of companies.

Stephen Sternbach holds a Master of Public Administration from Syracuse University – Maxwell School of Public Administration and a Bachelor of Arts in Industrial Relations and Personnel Administration from Ithaca College.
Latest posts by Stephen Sternbach (see all)