Elderly Care in Great Neck NY
May is Older Americans Month. This is an ideal opportunity for you to not only celebrate your aging parent, but also to find ways that you can improve your elderly care so that you can feel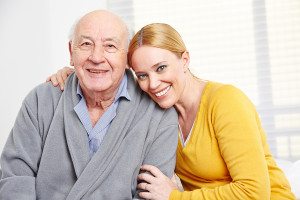 confident you are giving your parent the highest quality of life possible as they age in place.
Let these ideas inspire you for meaningful ways that you can observe Older Americans Month with your aging parent:
Explore your family history together. As your parent gets older you will likely find that they are much more in tune with the family and interested in passing down their traditions, beliefs, and experiences to future generations. Take advantage of this during Older Americans Month by exploring your family history together. Use genealogy software to research your relatives and learn more about them or head to the library to find out as much as you can. This can be a fun way to find new outings and trips that you might want to go on that would connect you to your family history.
Find new social opportunities. Social interaction is a critical part of supporting ongoing mental and emotional health for your aging parent. This month, dedicate yourself to finding new social activities and opportunities for them. Look for social opportunities through support groups, volunteer opportunities, organizations, and clubs. Adult education opportunities are fantastic for stretching your parent's mind while also helping them to connect with others.
Pay attention to their health. Take some time this month to really get in touch with your parent's health. Talk to them about how they are feeling, any new or worsened symptoms that they are experiencing, or any concerns that they might have about their health. This is a great time to talk about the health risks that they are facing due to their age or other circumstances and work together to come up with ways to reduce these risks and improve their overall health and wellbeing. Schedule a time to talk to their doctor about their health and any changes that should be made to their care and management routines to boost and maintain their quality of life.
Talk about your care efforts. It is easy to think about your elderly care routine for your parent in terms of what works for you. During this month, however, turn your attention to how your parent feels about their care. Remind yourself that the efforts that you are giving your aging parent are about them and what they need to enjoy the highest quality of life possible. This means that you must be flexible and willing to talk to your parent about things that you could modify, improve, or change to give them the care that they desire. Talk about the possibility of hiring an elderly health care services provider to boost their activity level and increase their independence. If you have been thinking about transitioning them into your home to live with your family, this month could be the perfect time to get those plans into motion.
If you or an aging loved one are in need of

elderly care in Great Neck, NY

or the surrounding areas, contact the caring professionals at Star Multi Care Services today at (631)956-8835. We are the Right Choice for Home Health Care Services!
Stephen Sternbach has been the Chairman of the Board of Directors, President, and Chief Executive Officer of Star Multi Care Services since 1987. After the sale of the New York and New Jersey operations of Star Multi Care Services, Sternbach brought the company private where he remains President and CEO of this newly developed $22M home healthcare company. With Sternbach at the helm, Star Multi Care Services employs more than 550 employees, in six offices throughout Florida, Pennsylvania, Ohio and New York.

From 1978 to 1986, Sternbach was associated with Automated Data Processing, Inc. ("ADP")–a provider of information services, where he held several marketing positions before becoming the Director of Sales.

1999-2008 Sternbach was an active participant on the Board of Directors for Proginet–a computer software company based in Garden City, New York. He also served on the Board of Trustees of the Long Island Chapter of the National Multiple Sclerosis Society from 1996-2002.

In 1996, Stephen Sternbach was named "Entrepreneur of the Year" by Ernst & Young, Paine Webber and NASDAQ. Sternbach was also named in Crain's New York Business Article, "40 Under 40" Successful Business Executives/Future Business Leaders in 1995. While maintaining a diversity of business and personal interests, Sternbach concentrated most of his efforts over the past 28 years towards continuously improving the quality of services delivered by the Star Multi Care Services' family of companies.

Stephen Sternbach holds a Master of Public Administration from Syracuse University – Maxwell School of Public Administration and a Bachelor of Arts in Industrial Relations and Personnel Administration from Ithaca College.
Latest posts by Stephen Sternbach (see all)