Elderly Care in Massapequa NY
Going through the flu can be a miserable experience for your elderly parent. As their family caregiver, you should know that it can also be extremely dangerous for them. Even what seems like a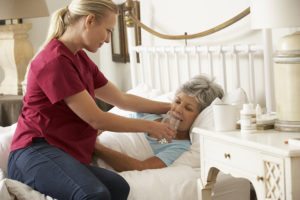 minor infection or illness to you can develop into something much more serious in your aging parent. The flu can turn into pneumonia, lung infections, or other issues that can even put your aging parent's life at risk. Being able to detect the signs and symptoms of the flu can help you to identify them early so that you can bring your aging parent in to their doctor as soon as possible and get them on the course of treatment that is right for their needs.
Some of the signs and symptoms of the flu include:
Fever
Hot flashes
Chills
Sore throat
Coughing
Runny nose
Stuffy nose
Headaches
Body aches
Sore or tight muscles
Fatigue
Vomiting
Diarrhea
It is important to note that not everyone who contracts the flu will experience all symptoms. Many people use the presence of a fever to identify an illness or to qualify whether a person is "actually" sick. When it comes to the flu, however, not everyone gets a fever, or it may be only a slight fever that does not seem to indicate a serious illness. This makes it extremely important that you do not use this one symptom, or the presence or lack of any one symptom, to qualify whether you are going to get in touch with your elderly parent's doctor to get them the care that they need.
For most people, the symptoms of the flu will develop within four days of coming into contact with the germs and will last for one to two weeks. For others, however, it can develop complications such as ear infections, sinus infections, inflammatory diseases of the kidneys, brain, or heart, or sepsis. If your aging parent has a condition such as asthma, cardiovascular disease, or congestive heart failure, this illness can make their condition worse and lead to life-threatening complications. Getting them medical attention promptly is the best way to help ensure an effective, prompt recovery and minimized risk of complications.
Starting elderly care for your aging parent is a great choice if you are concerned about their health and wellbeing as they age in place, or if they have recently been suffering from the flue. An elderly home care services provider can give your parent the personalized care, support, and assistance that they need to recover from their health issues and then move forward in a healthier lifestyle that will help to keep them from contracting further illnesses and infections. This care is especially important if your aging parent is already suffering from a health complication or condition that further compromises their immune system, putting them at increased risk of serious consequences associated with the flu. This can help you to feel more confident that your aging parent will be safe, healthy, and comfortable as they move through their recovery even if you are not able to be with them to care for them.
If you or an aging loved one are in need of

elderly care in Massapequa, NY

or the surrounding areas, contact the caring professionals at Star Multi Care Services today at (631)956-8835. We are the Right Choice for Home Health Care Services!
Source:  http://www.cdc.gov/flu/about/disease/complications.htm
Stephen Sternbach has been the Chairman of the Board of Directors, President, and Chief Executive Officer of Star Multi Care Services since 1987. After the sale of the New York and New Jersey operations of Star Multi Care Services, Sternbach brought the company private where he remains President and CEO of this newly developed $22M home healthcare company. With Sternbach at the helm, Star Multi Care Services employs more than 550 employees, in six offices throughout Florida, Pennsylvania, Ohio and New York.

From 1978 to 1986, Sternbach was associated with Automated Data Processing, Inc. ("ADP")–a provider of information services, where he held several marketing positions before becoming the Director of Sales.

1999-2008 Sternbach was an active participant on the Board of Directors for Proginet–a computer software company based in Garden City, New York. He also served on the Board of Trustees of the Long Island Chapter of the National Multiple Sclerosis Society from 1996-2002.

In 1996, Stephen Sternbach was named "Entrepreneur of the Year" by Ernst & Young, Paine Webber and NASDAQ. Sternbach was also named in Crain's New York Business Article, "40 Under 40" Successful Business Executives/Future Business Leaders in 1995. While maintaining a diversity of business and personal interests, Sternbach concentrated most of his efforts over the past 28 years towards continuously improving the quality of services delivered by the Star Multi Care Services' family of companies.

Stephen Sternbach holds a Master of Public Administration from Syracuse University – Maxwell School of Public Administration and a Bachelor of Arts in Industrial Relations and Personnel Administration from Ithaca College.
Latest posts by Stephen Sternbach (see all)