Elderly Care in Plainview NY
Constipation is an uncomfortable situation, but for many elderly adults, it is a frequent reality. Older adults are much more likely to experience constipation than younger adults and may be less likely to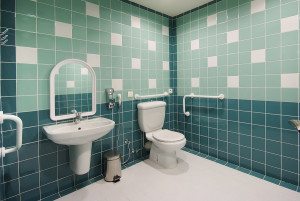 discuss these symptoms with their caregivers and doctors, which can make it more difficult to manage and overcome the symptoms. Though constipation itself is not a disease, it could be a symptom of something more serious going on, so it is important to make monitoring your parents' digestive health and managing their symptoms part of your elderly care plan.
The first step in helping your parents cope with constipation is evaluating whether they are truly dealing with chronic constipation or if it is just a temporary issue. Ask yourself and your elderly loved ones these questions to determine if their constipation may be a problem:
• Are you routinely having fewer than 3 bowel movements each week?
• Are your usual bowel movements hard, lumpy, or irregularly shaped?
• Do you frequently feel like your bowel has not emptied completely after a bowel movement, or that you are blocked?
• Do you commonly feel like you have to force or strain during your bowel movements?
Having two or more of these symptoms during the course of 12 or more weeks over one calendar year, even if they are not consecutive, is an indication of constipation. If your parents are experiencing two or more of these symptoms, particularly if there is blood in the stools or the straining has led to the development of hemorrhoids, get in touch with their physician to discuss testing for the cause of the constipation.
If your parents only deal with minor constipation and their physician does not feel more extensive treatments are necessary, there are many ways you and your elderly parents' elder home care provider can help your seniors cope with their difficult bowel movements. Try some of these ways to help them find relief:
• Drink plenty of water. Staying hydrated is essential to having healthy bowel movements and warding off constipation. Drinking plenty of water makes sure stool stays soft and easy to pass while making it less difficult for your body to process food. Ensure your aging loved ones get at least 8 glasses of water each day, with more during hot weather or exertion
• Eat well. Your seniors' diet is one of the biggest contributors to their digestive health. Foods such as dairy products, eggs, high fat meats, and sugary foods can cause constipation, so pay close attention to their diet to find potential trigger foods and limit these
• Focus on fiber. Fiber helps with the forming and passing of bowel movements while also absorbing cholesterol from the system. Ensure your elderly parents get enough fiber on a daily basis by serving plenty of whole grains, fresh fruits, and raw vegetables. Supplement these food sources with products such as fiber gummies, tablets, or powders
• Get active. Inactivity may lead to constipation and worsen symptoms when they arise. Make sure your seniors are getting enough physical activity and boost their exercise if they seem to be suffering from constipation more often.
If you or an aging loved one are in need of elderly care services in Plainview, NY or the surrounding areas, contact the caring professionals at Star Multi Care Services today at (631)956-8835. We are the Right Choice for Home Health Care Services!
Stephen Sternbach has been the Chairman of the Board of Directors, President, and Chief Executive Officer of Star Multi Care Services since 1987. After the sale of the New York and New Jersey operations of Star Multi Care Services, Sternbach brought the company private where he remains President and CEO of this newly developed $22M home healthcare company. With Sternbach at the helm, Star Multi Care Services employs more than 550 employees, in six offices throughout Florida, Pennsylvania, Ohio and New York.

From 1978 to 1986, Sternbach was associated with Automated Data Processing, Inc. ("ADP")–a provider of information services, where he held several marketing positions before becoming the Director of Sales.

1999-2008 Sternbach was an active participant on the Board of Directors for Proginet–a computer software company based in Garden City, New York. He also served on the Board of Trustees of the Long Island Chapter of the National Multiple Sclerosis Society from 1996-2002.

In 1996, Stephen Sternbach was named "Entrepreneur of the Year" by Ernst & Young, Paine Webber and NASDAQ. Sternbach was also named in Crain's New York Business Article, "40 Under 40" Successful Business Executives/Future Business Leaders in 1995. While maintaining a diversity of business and personal interests, Sternbach concentrated most of his efforts over the past 28 years towards continuously improving the quality of services delivered by the Star Multi Care Services' family of companies.

Stephen Sternbach holds a Master of Public Administration from Syracuse University – Maxwell School of Public Administration and a Bachelor of Arts in Industrial Relations and Personnel Administration from Ithaca College.
Latest posts by Stephen Sternbach (see all)