Home Care in Stonybrook NY
Many home care journeys feature a goal of getting seniors to a healthy weight and helping them to maintain it. This often involves adjusting their diet and encouraging them to get more physical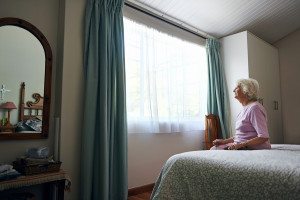 activity so that they can trim off those excess pounds and keep them off for better health throughout their later years. What if, however, your parents not only do not need to reduce their weight, but seem to have lost too much weight? Realizing that your aging loved ones are getting too thin can be an unnerving experience, and it is important that you are prepared to respond quickly and effectively to help reduce the chances that they will suffer serious health consequences related to the weight loss.
If the next time you give your aging parent a hug she feels smaller than usual, it may be time to investigate her weight loss, determine its cause, and settle on changes to her home care routine that may boost her health and help prevent further unintentional weight loss that could lead to serious health complications.
The first step in evaluating senior weight loss is determining if your parent has, in fact, lost too much weight. This is not as simple as just thinking that she is smaller, but still a little overweight so that must be fine. The reality is that a person could have lost weight too rapidly for it to be healthy but still have a few excess pounds on her body. This is especially true when the weight loss comes when the person is not putting any real concerted effort into losing weight. If know how much your parent weighed a few months ago, put her on the scale and see the difference. It if is more than 5 percent of her body weight and she has not been purposely exercising and dieting to lose weight, there may be a problem.
Some common issues that cause unintentional weight loss in elderly adults include:
• Oral health problems that cause pain and discomfort with chewing
• Difficulty swallowing
• Loss of the ability to smell or taste, which can make seniors lose interest in eating
• Not being able to get out of the house or to a grocery store regularly to purchase high quality food
• Not being able to cook safely and independently
• Loss of appetite due to health concerns and illnesses
• Confusion over the need to eat or whether the person has eaten that may be caused by Alzheimer's disease or another form of dementia
If your parents have lost a significant amount of weight without trying and you are concerned, get in touch with their doctor to discuss the weight loss. He can help to identify the specific cause of the problem and give recommendations for how to resolve it. For many seniors, maintaining a healthy weight can be as simple as you or their home care provider being in the home with them more often to help shop, prepare food, and eat together so that their bodies get the nutrients that they need on a regular basis.
If you or an aging loved one are in need of home care services in Stonybrook, NY or the surrounding areas, contact the caring professionals at Star Multi Care Services today at (631)956-8835. We are the Right Choice for Home Health Care Services!
Stephen Sternbach has been the Chairman of the Board of Directors, President, and Chief Executive Officer of Star Multi Care Services since 1987. After the sale of the New York and New Jersey operations of Star Multi Care Services, Sternbach brought the company private where he remains President and CEO of this newly developed $22M home healthcare company. With Sternbach at the helm, Star Multi Care Services employs more than 550 employees, in six offices throughout Florida, Pennsylvania, Ohio and New York.

From 1978 to 1986, Sternbach was associated with Automated Data Processing, Inc. ("ADP")–a provider of information services, where he held several marketing positions before becoming the Director of Sales.

1999-2008 Sternbach was an active participant on the Board of Directors for Proginet–a computer software company based in Garden City, New York. He also served on the Board of Trustees of the Long Island Chapter of the National Multiple Sclerosis Society from 1996-2002.

In 1996, Stephen Sternbach was named "Entrepreneur of the Year" by Ernst & Young, Paine Webber and NASDAQ. Sternbach was also named in Crain's New York Business Article, "40 Under 40" Successful Business Executives/Future Business Leaders in 1995. While maintaining a diversity of business and personal interests, Sternbach concentrated most of his efforts over the past 28 years towards continuously improving the quality of services delivered by the Star Multi Care Services' family of companies.

Stephen Sternbach holds a Master of Public Administration from Syracuse University – Maxwell School of Public Administration and a Bachelor of Arts in Industrial Relations and Personnel Administration from Ithaca College.
Latest posts by Stephen Sternbach (see all)