Home Care in Huntington NY
The fall may be a wonderful and beautiful time for you to spend with your elderly loved ones, but it is also a time when germs thrive and people are at higher risk of developing infections and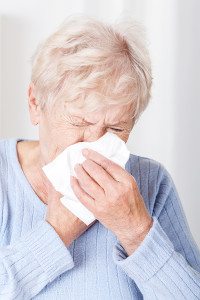 illnesses. Older adults are even more vulnerable than younger adults because they tend to have weaker immune systems that make it easier for them to catch the illnesses, but also more difficult for them to fight them off. Preparing yourself and your home care approach for these illnesses and infections helps you to feel more confident that your loved ones can get through the season spending more time enjoying the weather and natural beauty, and less time suffering from the discomfort of common seasonal infections.
One infection that is particularly common during the fall season is sinus infections. This miserable condition occurs when germs enter the sinuses and cause inflammation of the lining. These infections can lead to very uncomfortable symptoms and make you more vulnerable to developing other illnesses, or the worsening of other already-existing illnesses.
Some conditions that can lead to a sinus infection, or sinusitis, include:
• Cold
• Nasal polyps
• Allergic rhinitis
• Deviated septum
There are four types of sinus infections, including acute, subacute, chronic, and recurrent. All feature essentially the same symptoms, including:
• Cold-like symptoms that begin suddenly
• Facial pain
• Tenderness in the sinuses
• Possible pain in the teeth associated with the pressure from the sinuses
• Runny nose
• Stuffy nose
• Fever
• Loss of sense of smell
• Cough
• Congestion
• Bad breath
• Fatigue
The difference in these types of sinus infections is the length of the infection. While an acute infection will last at least 10 to 14 days but will not extend beyond four weeks, a subacute infection will last between four and eight weeks. Chronic sinus infections last more than eight weeks. If your aging loved ones experience several sinus infections, regardless of the length, within the same year, it is considered recurrent sinusitis.
Some things that you and your aging parents' in home health care services provider can do to help them through a sinus infection include:
• Head to the doctor. Getting a thorough examination leads to a proper diagnosis, which means that your parents will get on the appropriate course of treatment to ease their discomfort and get them healthy again. Make sure that they follow these guidelines expressly to ensure their benefit.
• Warm moist air. Breathing in warm, moist air can be incredibly soothing and help to relieve pressure in the sinuses by releasing blockages. Try putting your parents in a warm shower or bath, heating up a pan of boiling water, removing it from the heat and having your parents lean over it to breath in the steam, or using a vaporizer to make the air in their immediate surroundings warmer and more moist.
• Warm compress. The warmth and pressure of a warm compress can help to alleviate pain caused by the sinus infection. Try filling a sock with dry rice and warming it in the microwave for 30 seconds to a minute and placing it on the face for a soothing, comforting effect.
If you or an aging loved one are in need of home care services in Huntington, NY or the surrounding areas, contact the caring professionals at Star Multi Care Services today at (631)956-8835. We are the Right Choice for Home Health Care Services!
Stephen Sternbach has been the Chairman of the Board of Directors, President, and Chief Executive Officer of Star Multi Care Services since 1987. After the sale of the New York and New Jersey operations of Star Multi Care Services, Sternbach brought the company private where he remains President and CEO of this newly developed $22M home healthcare company. With Sternbach at the helm, Star Multi Care Services employs more than 550 employees, in six offices throughout Florida, Pennsylvania, Ohio and New York.

From 1978 to 1986, Sternbach was associated with Automated Data Processing, Inc. ("ADP")–a provider of information services, where he held several marketing positions before becoming the Director of Sales.

1999-2008 Sternbach was an active participant on the Board of Directors for Proginet–a computer software company based in Garden City, New York. He also served on the Board of Trustees of the Long Island Chapter of the National Multiple Sclerosis Society from 1996-2002.

In 1996, Stephen Sternbach was named "Entrepreneur of the Year" by Ernst & Young, Paine Webber and NASDAQ. Sternbach was also named in Crain's New York Business Article, "40 Under 40" Successful Business Executives/Future Business Leaders in 1995. While maintaining a diversity of business and personal interests, Sternbach concentrated most of his efforts over the past 28 years towards continuously improving the quality of services delivered by the Star Multi Care Services' family of companies.

Stephen Sternbach holds a Master of Public Administration from Syracuse University – Maxwell School of Public Administration and a Bachelor of Arts in Industrial Relations and Personnel Administration from Ithaca College.
Latest posts by Stephen Sternbach (see all)