Home Care in Manhasset NY
There is a tremendous amount of research that highlights the benefits pets can offer seniors, especially those who may be living alone. Nonetheless, many people assume that elderly people shouldn't have a cat or dog. The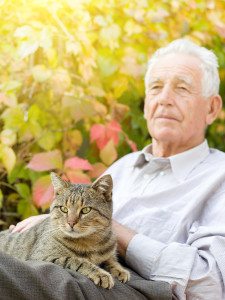 concern is that having a cat may cause an elderly individual to fall if it gets underfoot, or he could lose his balance and fall while cleaning out the litter box.
Consider the following facts regarding seniors and owning a pet:
1. The cat can be an emotional boost. Your mother is going to be dealing with a number of challenges in her life. She may feel isolated, alone, and depressed if she can't participate in various activities.  Perhaps she is grieving the loss of friends or other loved ones.  The cat can offer her companionship and comfort during those times when she is alone.
2. Relying on a home care provider throughout the day can offer her physical support. Having a professional caregiver in the home to support her as she's walking down the hall, going to the bathroom, taking a shower, heading down to the basement to do laundry, or even going to the kitchen will provide her with physical support for those moments when the cat may decide to dart around.
3. Many home care aides are able to assist seniors with taking care of their pets.  Most caregivers are willing to help look after the cat, clean the litter box, and do those other basic necessities. The best thing is to contact the home care agency and see what caregivers are available to support your elderly loved one with this task.
June is Adopt a Cat Month and just because a person requires home care, that doesn't mean he or she should have to give up on pet ownership.  You may be surprised at what home care services can do to help!
If you or an aging loved one are in need of home care services in Manhasset, NY or the surrounding areas, contact the caring professionals at Star Multi Care Services today at (631)956-8835. We are the Right Choice for Home Health Care Services!
Stephen Sternbach has been the Chairman of the Board of Directors, President, and Chief Executive Officer of Star Multi Care Services since 1987. After the sale of the New York and New Jersey operations of Star Multi Care Services, Sternbach brought the company private where he remains President and CEO of this newly developed $22M home healthcare company. With Sternbach at the helm, Star Multi Care Services employs more than 550 employees, in six offices throughout Florida, Pennsylvania, Ohio and New York.

From 1978 to 1986, Sternbach was associated with Automated Data Processing, Inc. ("ADP")–a provider of information services, where he held several marketing positions before becoming the Director of Sales.

1999-2008 Sternbach was an active participant on the Board of Directors for Proginet–a computer software company based in Garden City, New York. He also served on the Board of Trustees of the Long Island Chapter of the National Multiple Sclerosis Society from 1996-2002.

In 1996, Stephen Sternbach was named "Entrepreneur of the Year" by Ernst & Young, Paine Webber and NASDAQ. Sternbach was also named in Crain's New York Business Article, "40 Under 40" Successful Business Executives/Future Business Leaders in 1995. While maintaining a diversity of business and personal interests, Sternbach concentrated most of his efforts over the past 28 years towards continuously improving the quality of services delivered by the Star Multi Care Services' family of companies.

Stephen Sternbach holds a Master of Public Administration from Syracuse University – Maxwell School of Public Administration and a Bachelor of Arts in Industrial Relations and Personnel Administration from Ithaca College.
Latest posts by Stephen Sternbach (see all)