Home Care in Huntington NY
On Thursday, August 11, 2016 Assemblyman Chad A. Lupinacci (R,C,I-South Huntington) visited Star Multi Care Services to hear first-hand how proposed changes in healthcare will potentially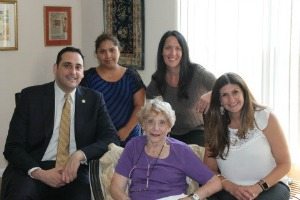 affect the elderly and the home care providers in New York State.  Star Multi Care Services has been providing in-home healthcare to residents of New York since 1938.  Stephen Sternbach, President and CEO,  Lauren Scalcione, Branch Administrator and Amy Brett, Senior Patient Care Advocate sat down with Assemblyman Lupinacci to discuss how the upcoming legislation can affect the future of the Long Term Care industry in New York.
Putting aside the personal effects of these proposals to home care providers, Star Multi Care thought the Assemblyman would gain the most valuable insight through discussion with seniors and their home care aides.  These vulnerable populations may be faced with the most devastating effects in the form of increased rates, reduced staffing pools and a backward push sending some seniors back to nursing facilities.  "Meetings like these are truly productive because it helps me learn first-hand what important steps can be taken for the future of healthcare, our communities and the State of New York," Lupinacci said.
These in-home meetings proved to be the most productive part of the day.  "Giving Assemblyman Lupinacci the ability to hear a client and an aide each expressing their concerns over the proposed changes provided valuable insight that lawmakers tend to eliminate in their hast to pass new legislation and policies.  I am thrilled that he took the time to listen to all of us today.  It truly gives us hope that he is working to make New York healthcare better for everyone", said Lauren Scalcione.
To learn more about this meeting, please click here.
For more information about Star Multi Care and the services they offer, please visit the website at www.starmulticare.com or call, 631-424-STAR (7827).
Stephen Sternbach has been the Chairman of the Board of Directors, President, and Chief Executive Officer of Star Multi Care Services since 1987. After the sale of the New York and New Jersey operations of Star Multi Care Services, Sternbach brought the company private where he remains President and CEO of this newly developed $22M home healthcare company. With Sternbach at the helm, Star Multi Care Services employs more than 550 employees, in six offices throughout Florida, Pennsylvania, Ohio and New York.

From 1978 to 1986, Sternbach was associated with Automated Data Processing, Inc. ("ADP")–a provider of information services, where he held several marketing positions before becoming the Director of Sales.

1999-2008 Sternbach was an active participant on the Board of Directors for Proginet–a computer software company based in Garden City, New York. He also served on the Board of Trustees of the Long Island Chapter of the National Multiple Sclerosis Society from 1996-2002.

In 1996, Stephen Sternbach was named "Entrepreneur of the Year" by Ernst & Young, Paine Webber and NASDAQ. Sternbach was also named in Crain's New York Business Article, "40 Under 40" Successful Business Executives/Future Business Leaders in 1995. While maintaining a diversity of business and personal interests, Sternbach concentrated most of his efforts over the past 28 years towards continuously improving the quality of services delivered by the Star Multi Care Services' family of companies.

Stephen Sternbach holds a Master of Public Administration from Syracuse University – Maxwell School of Public Administration and a Bachelor of Arts in Industrial Relations and Personnel Administration from Ithaca College.
Latest posts by Stephen Sternbach (see all)