Home Care in Manhasset NY
As a family caregiver you are likely aware of the risk of falls for elderly adults. You know that falling can cause severe injuries that make your parent vulnerable to decreased mobility and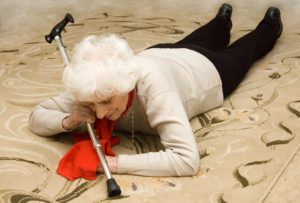 diminished quality of life as they age in place. What you might not realize, however, is that there is more to fall risk for the elderly than just mobility issues. For seniors who are suffering from Alzheimer's disease, their chances of falling may be higher than those who are not dealing with this progressive disease.
Studies have shown that older adults who are living with Alzheimer's disease are up to 3 times more likely to suffer from a hip fracture than those who do not have the condition. This type of injury is not only extremely painful, but it may require extensive treatment, including surgery, and diminish your parent's mobility for years to come. Breaking a hip dramatically increases the chances of experiencing another fracture, and can double the chances of death in the year following the break.
Understanding the increased risk of falls associated with Alzheimer's disease can help you to make care decisions that reduce the risk of these injuries and their consequences.
Some of the reasons that Alzheimer's disease and fall risk are related include:
Vision problems. Low vision is an extremely common issue of older adulthood and it can develop more rapidly in those with Alzheimer's disease. This can make it difficult for them to identify obstacles in their path and properly navigate their home or anywhere else that they visit.
Perception problems. Often a concern in combination with vision problems, perception problems are when your aging loved one does not properly process what is happening around them. This can mean that they see something but do not know what it is that they are seeing, or are not able to properly interpret how to interact with it. For example, they might see a shadow and think that it is an object and try to step over it, causing them to fall.
Balance problems. Seniors with Alzheimer's disease experience physical functioning decline as well as cognitive functioning decline. One element of this decline is balance problems. This makes it extremely important for your aging parent to have physical support and assistance, as well as a safe and secure environment.
Home care can be tremendously beneficial for an elderly adult who is suffering from Alzheimer's disease. The highly personalized services of an in-home senior are services provider are designed to ensure that your loved one's individual needs and challenges are addressed effectively and compassionately while also supporting as much independence and autonomy as possible. This helps them to stay safe, healthy, and comfortable, and enjoy a fulfilling quality of life as they age in place. Starting this care arrangement as early in their journey with Alzheimer's disease as possible helps your parent to become accustomed to the care, establish a relationship with their care provider, and feel confident that even as their needs and challenges increase, they will continue to get the care and assistance that they need.
If you or an aging loved one are in need of home care in Manhasset, NY or the surrounding areas, contact the caring professionals at Star Multi Care Services today at (631)956-8835. We are the Right Choice for Home Health Care Services!
Stephen Sternbach has been the Chairman of the Board of Directors, President, and Chief Executive Officer of Star Multi Care Services since 1987. After the sale of the New York and New Jersey operations of Star Multi Care Services, Sternbach brought the company private where he remains President and CEO of this newly developed $22M home healthcare company. With Sternbach at the helm, Star Multi Care Services employs more than 550 employees, in six offices throughout Florida, Pennsylvania, Ohio and New York.

From 1978 to 1986, Sternbach was associated with Automated Data Processing, Inc. ("ADP")–a provider of information services, where he held several marketing positions before becoming the Director of Sales.

1999-2008 Sternbach was an active participant on the Board of Directors for Proginet–a computer software company based in Garden City, New York. He also served on the Board of Trustees of the Long Island Chapter of the National Multiple Sclerosis Society from 1996-2002.

In 1996, Stephen Sternbach was named "Entrepreneur of the Year" by Ernst & Young, Paine Webber and NASDAQ. Sternbach was also named in Crain's New York Business Article, "40 Under 40" Successful Business Executives/Future Business Leaders in 1995. While maintaining a diversity of business and personal interests, Sternbach concentrated most of his efforts over the past 28 years towards continuously improving the quality of services delivered by the Star Multi Care Services' family of companies.

Stephen Sternbach holds a Master of Public Administration from Syracuse University – Maxwell School of Public Administration and a Bachelor of Arts in Industrial Relations and Personnel Administration from Ithaca College.
Latest posts by Stephen Sternbach (see all)