Home Care in Massapequa NY
If your parents have a physical or mental disability, you may feel uncomfortable leaving them at home by themselves. One option that would allow them to stay in their home is to hire an in-home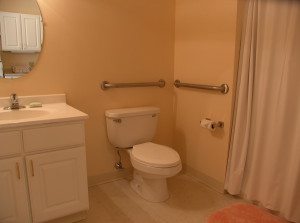 care provider who can watch over your parents and help them with everyday tasks. However, if they do plan on living in their home, there are some modifications that should be made to create a safer environment for your loved one.
Wider doors. This is especially important if your parent requires a wheelchair, walker, or other mobility device. It can be an expensive renovation to make, but one that will be necessary to accommodate your loved one's devices.
Remote-controlled blinds. Blinds can be challenging for anyone to lower or heighten, even more so for elders in need of senior care for mobility problems. Remote-control blinds may be the answer since all it takes is the push of a button to make the blind adjustments your parent wants.
Grab bars. The bathroom is the most dangerous room in the house, especially when the floors are slippery after a shower or bath. Installing grab bars is fairly inexpensive and will give elders something to hold onto in order to prevent a fall or injury.
Lever-style doorknobs. Ashita Patel, the outreach coordinator for Modernize.com, says that transitioning from a traditional doorknob to one with a lever is one of the easiest retrofits to do, yet will greatly simply the life of a senior. Older adults with arthritis or other chronic pains will find this type of doorknob much easier to use.
New rails. One loose stair railing can cause an elder to lose their balance, so it is extremely important that all railings are securely installed and will not come loose when your loved one is walking up or down the stairs.
Ramp. If your parent is wheelchair bound and there are stairs leading to the front door, installing a disability ramp is important. It will allow your loved one the freedom to enter and exit the home as they please without needing to depend on anyone to help them.
Move their room downstairs. If your parent's room has always been upstairs, it is time to move it downstairs in order to help them get everything they need on one level of the house instead of having to walk up and down stairs each day. If there is a bathroom downstairs, make sure to move all of their toiletries to that bathroom for easier access.
Older adults who have always been able to care for themselves may find it difficult to need the help of an elder care provider. With these home improvement tips, they will be much safer when by themselves.
If you or an aging loved one are in need of home care in Massapequa, NY or the surrounding areas, contact the caring professionals at Star Multi Care Services today at (631)956-8835. We are the Right Choice for Home Health Care Services!
Source
US News. "9 Home Improvements for Your Aging Parents."
Stephen Sternbach has been the Chairman of the Board of Directors, President, and Chief Executive Officer of Star Multi Care Services since 1987. After the sale of the New York and New Jersey operations of Star Multi Care Services, Sternbach brought the company private where he remains President and CEO of this newly developed $22M home healthcare company. With Sternbach at the helm, Star Multi Care Services employs more than 550 employees, in six offices throughout Florida, Pennsylvania, Ohio and New York.

From 1978 to 1986, Sternbach was associated with Automated Data Processing, Inc. ("ADP")–a provider of information services, where he held several marketing positions before becoming the Director of Sales.

1999-2008 Sternbach was an active participant on the Board of Directors for Proginet–a computer software company based in Garden City, New York. He also served on the Board of Trustees of the Long Island Chapter of the National Multiple Sclerosis Society from 1996-2002.

In 1996, Stephen Sternbach was named "Entrepreneur of the Year" by Ernst & Young, Paine Webber and NASDAQ. Sternbach was also named in Crain's New York Business Article, "40 Under 40" Successful Business Executives/Future Business Leaders in 1995. While maintaining a diversity of business and personal interests, Sternbach concentrated most of his efforts over the past 28 years towards continuously improving the quality of services delivered by the Star Multi Care Services' family of companies.

Stephen Sternbach holds a Master of Public Administration from Syracuse University – Maxwell School of Public Administration and a Bachelor of Arts in Industrial Relations and Personnel Administration from Ithaca College.
Latest posts by Stephen Sternbach (see all)