Home Care in Melville NY
Star Multi Care Services celebrated another profitable year in the business of Home Health Care.  This year will commemorate their seventy eighth (78th) year providing in-home services to the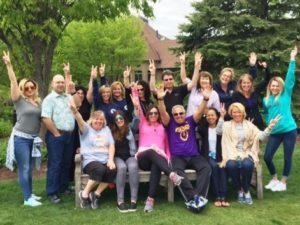 residents of New York, Florida, Ohio and Pennsylvania.  For the past 30 years, the company has been owned and operated by Stephen Sternbach who is pictured above (front row in purple) with his management team.
Stephen holds a retreat each year to allow his management team to evaluate the previous year, predict and discuss future endeavors and home care trends and most importantly, to permit the group some time to relax and have fun with various team-building activities.  "The week's events are purposefully planned to provide the team time to bond and to reward them for a job well done", Stephen said.  "I would not be where I am today without this group and I want them to know how much I need each one of them if our Company is to remain successful", he continued.
This year's events were held in the Grand Cascades Lodge at Crystal Springs Resort in New Jersey.  "The Management Retreat gets better every year", said Mary Lynne Heller, Administrator of the Lancaster Branch of Extended Family Care.  "I've been here for almost fifteen years and look forward to this event every year".
The longevity of the management team is what Stephen prides himself upon and says is the cornerstone of the Company's success.  "Success cannot be measured solely through profitability, he says.  "If my employees are happy, I am happy and we are truly a successful company', he concluded.
If you or an aging loved one are in need of

home care in Melville, NY

or the surrounding areas, contact the caring professionals at Star Multi Care Services today at (631)956-8835. We are the Right Choice for Home Health Care Services!
Stephen Sternbach has been the Chairman of the Board of Directors, President, and Chief Executive Officer of Star Multi Care Services since 1987. After the sale of the New York and New Jersey operations of Star Multi Care Services, Sternbach brought the company private where he remains President and CEO of this newly developed $22M home healthcare company. With Sternbach at the helm, Star Multi Care Services employs more than 550 employees, in six offices throughout Florida, Pennsylvania, Ohio and New York.

From 1978 to 1986, Sternbach was associated with Automated Data Processing, Inc. ("ADP")–a provider of information services, where he held several marketing positions before becoming the Director of Sales.

1999-2008 Sternbach was an active participant on the Board of Directors for Proginet–a computer software company based in Garden City, New York. He also served on the Board of Trustees of the Long Island Chapter of the National Multiple Sclerosis Society from 1996-2002.

In 1996, Stephen Sternbach was named "Entrepreneur of the Year" by Ernst & Young, Paine Webber and NASDAQ. Sternbach was also named in Crain's New York Business Article, "40 Under 40" Successful Business Executives/Future Business Leaders in 1995. While maintaining a diversity of business and personal interests, Sternbach concentrated most of his efforts over the past 28 years towards continuously improving the quality of services delivered by the Star Multi Care Services' family of companies.

Stephen Sternbach holds a Master of Public Administration from Syracuse University – Maxwell School of Public Administration and a Bachelor of Arts in Industrial Relations and Personnel Administration from Ithaca College.
Latest posts by Stephen Sternbach (see all)