Home Care in Plainview NY
Lyme disease, a bacterial infection transmitted through tick bites, is a disease that we often hear about more often during the summer months.  When you and your loved one are out and about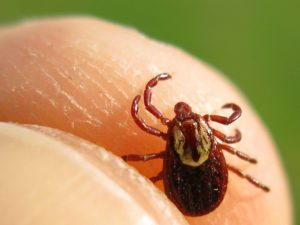 more often hiking, spending time at the park, and gardening you may be at a higher risk for getting bitten by the deer tick, which can lead to Lyme disease.  Unlike a mosquito bite or spider bite, Lyme disease presents itself as more than just an itchy rash.  In fact, if Lyme disease is untreated it can lead to arthritis, heart problems, and conditions that affect the nervous system.  Read on for more information about Lyme disease that caregivers can use to help identify the signs and symptoms and help to prevent it.
What are the causes and signs of Lyme disease?
While the deer ticks that carry the bacteria that causes Lyme disease can be found all over the United States, most of the cases of Lyme disease are reported in the Northeast region of the country.  If you and your loved one live in this region, it is important for you to be extra vigilant about preventing tick bites.  A bite from a tick carrying lyme disease will often result in a red rash that is round and looks like a bullseye.  Your loved one may also experience flu-like symptoms such as fever, body aches, fatigue, and headaches.  It is very important that your loved one seek medical attention if this rash appears at the site of the tick-bite.  When caught in the early stages, Lyme disease can be treated with antibiotics.  In some cases, the symptoms of Lyme disease will remain even after treatment and become chronic Lyme disease.
How can Lyme disease be prevented?
The best way to help your loved one prevent Lyme disease is by preventing tick bites.  Since ticks are only about the size of a poppyseed, they can be hard to see and find when they end up on clothing.  Keep in mind that ticks like to live in wild or wooded areas, so it is a great idea to keep your loved one's yard tidy and neat.  It is also important to take precautions when visiting a nature area or hiking trail such as using insect repellent and wearing protective clothing.  After visiting a wooded area, be sure your loved one's checks their skin for bites or for any ticks that might have burrowed in the skin and removes them at once.
If you or an aging loved one are in need of

home care in Plainview, NY

or the surrounding areas, contact the caring professionals at Star Multi Care Services today at (631)956-8835. We are the Right Choice for Home Health Care Services!
Source: http://www.webmd.com/skin-problems-and-treatments/lyme-disease-directory
Stephen Sternbach has been the Chairman of the Board of Directors, President, and Chief Executive Officer of Star Multi Care Services since 1987. After the sale of the New York and New Jersey operations of Star Multi Care Services, Sternbach brought the company private where he remains President and CEO of this newly developed $22M home healthcare company. With Sternbach at the helm, Star Multi Care Services employs more than 550 employees, in six offices throughout Florida, Pennsylvania, Ohio and New York.

From 1978 to 1986, Sternbach was associated with Automated Data Processing, Inc. ("ADP")–a provider of information services, where he held several marketing positions before becoming the Director of Sales.

1999-2008 Sternbach was an active participant on the Board of Directors for Proginet–a computer software company based in Garden City, New York. He also served on the Board of Trustees of the Long Island Chapter of the National Multiple Sclerosis Society from 1996-2002.

In 1996, Stephen Sternbach was named "Entrepreneur of the Year" by Ernst & Young, Paine Webber and NASDAQ. Sternbach was also named in Crain's New York Business Article, "40 Under 40" Successful Business Executives/Future Business Leaders in 1995. While maintaining a diversity of business and personal interests, Sternbach concentrated most of his efforts over the past 28 years towards continuously improving the quality of services delivered by the Star Multi Care Services' family of companies.

Stephen Sternbach holds a Master of Public Administration from Syracuse University – Maxwell School of Public Administration and a Bachelor of Arts in Industrial Relations and Personnel Administration from Ithaca College.
Latest posts by Stephen Sternbach (see all)