Home Care in North Port NY
Incontinence is an issue that is often associated specifically with women due to the frequency with which women who have had children experience incontinence because of the weakening of their muscles during pregnancy and delivery. Incontinence is an extremely common symptom, however, for men who have recently coped with prostate cancer. If your aging father has recently gone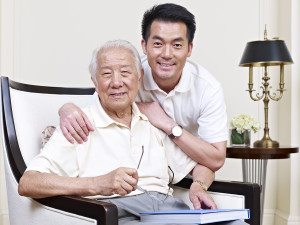 through prostate cancer, helping him face and deal with incontinence can be a crucial element of your home care journey.
Some of the ways that you and your parents' in home health care services provider can help your father cope with incontinence after suffering prostate cancer include:
• Acknowledge it. Especially because it is so often associated with women, but also simply because men tend to be less forthcoming with their medical concerns, your aging father may be reluctant to talk about his issues with you. This can create a sense of embarrassment and stress, and prevents you from being able to help him find the solutions that he needs. Confront this by bringing up the issue with him when you have some private time with him. Let him know that you have heard incontinence can be an issue after prostate cancer and ask if he is coping with it. If he seems uncomfortable, pull back from the conversation, but let him know that you are available to help him.
• Keep up hydration. Reducing fluid intake is not an effective or healthy way to help with bladder control. Encourage your father to drink at least 8 glasses of water each day to keep his body functioning properly and his bladder healthy. Not drinking enough can cause bladder spasms, which only further reduces bladder control.
• Avoid irritating foods and beverages. Some foods and beverages are known to irritate the bladder, increasing urgency and reducing control. Encourage your aging father to avoid irritants such as tomato products, caffeine, spicy foods, citrus fruits and citrus juices, and chocolate. Consider keeping a food and beverage journal so that you can track your father's symptoms and link them to particular foods so you can eliminate them from his diet.
 • Eliminate alcohol. Beverages such as alcohol and caffeine are diuretics, meaning they draw fluids out of the body. When you consume these, it increases urinary urgency and the risk of leaks. Eliminate these products from your father's diet and ask his doctor about other foods and beverages that draw out fluids so that you can reduce these symptoms.
• Use proper products. If your father is coping with incontinence, even if it is only mild, empower him to take control and maintain his activity and social engagement by choosing the proper management products for his needs. This means recognizing that the needs for women and men are different, and helping him to find products designed specifically for men so that he feels comfortable, discreet, and secure.
Get in touch with the elder care agency in your area to find out more about hiring an in home health care services provider who can help your father cope with his incontinence with dignity and confidence.
If you or an aging loved one are in need of home care services in North Port, NY or the surrounding areas, contact the caring professionals at Star Multi Care Services today at (631)956-8835. We are the Right Choice for Home Health Care Services!
Stephen Sternbach has been the Chairman of the Board of Directors, President, and Chief Executive Officer of Star Multi Care Services since 1987. After the sale of the New York and New Jersey operations of Star Multi Care Services, Sternbach brought the company private where he remains President and CEO of this newly developed $22M home healthcare company. With Sternbach at the helm, Star Multi Care Services employs more than 550 employees, in six offices throughout Florida, Pennsylvania, Ohio and New York.

From 1978 to 1986, Sternbach was associated with Automated Data Processing, Inc. ("ADP")–a provider of information services, where he held several marketing positions before becoming the Director of Sales.

1999-2008 Sternbach was an active participant on the Board of Directors for Proginet–a computer software company based in Garden City, New York. He also served on the Board of Trustees of the Long Island Chapter of the National Multiple Sclerosis Society from 1996-2002.

In 1996, Stephen Sternbach was named "Entrepreneur of the Year" by Ernst & Young, Paine Webber and NASDAQ. Sternbach was also named in Crain's New York Business Article, "40 Under 40" Successful Business Executives/Future Business Leaders in 1995. While maintaining a diversity of business and personal interests, Sternbach concentrated most of his efforts over the past 28 years towards continuously improving the quality of services delivered by the Star Multi Care Services' family of companies.

Stephen Sternbach holds a Master of Public Administration from Syracuse University – Maxwell School of Public Administration and a Bachelor of Arts in Industrial Relations and Personnel Administration from Ithaca College.
Latest posts by Stephen Sternbach (see all)