Senior Care in Massapequa NY
A big part of your elderly loved one's safety at home can come down to doors. These suggestions can help you to check how safe your loved one's situation is and make changes.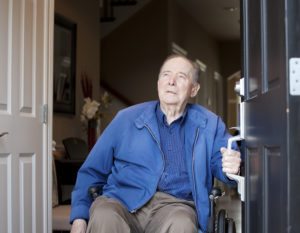 Dealing with Interior Door Locks
Your elderly loved one needs and wants privacy now and again, but door locks can be a dangerous thing. If something should happen and you can't get to your elderly loved one because the door is not only shut, but also locked, that's a huge concern. One way around this is to keep a tool handy that can pop open interior door locks. The only problem with that can be misplacing the tool or not having it handy exactly when you need it. The other option is to replace the existing knobs with ones that don't have locks in them.
Interior Doors that Open Into the Room
Many interior doors of the home open into the room, which for the most part makes sense. From a safety standpoint, though, that doesn't always make sense. If your loved one should fall, for example, and land against the doorway, it's going to be difficult to gain entrance to that room to provide assistance unless there is another way into the room. One solution is that you can contact a handyman to move the door hinges so that the door opens into the hallway.
Consider Installing an Alarm System
Exterior doors pose their own unique problems, particularly if your loved one has Alzheimer's disease or is otherwise prone to wandering. One fix is to install an alarm system that alerts you audibly when an exterior door is opened. That way you know to check whether your loved one has left the house or not. If you don't want to go the route of a full alarm system, there are door alarms that you can use at each exterior door.
Hide or Camouflage Exterior Door Locks
In extreme cases, you might need to lock exterior doors and make sure that they stay locked. One way to do this is to make the lock considerably higher or lower on the door than most people would think to look. You could also install a deadbolt that requires a key on both sides of the door.
If you need additional help with door safety, talk with your loved one's senior care providers about ways to make the home safer for your elderly loved one.
If you or an aging loved one are in need of

senior care in Massapequa, NY

or the surrounding areas, contact the caring professionals at Star Multi Care Services today at (631)956-8835. We are the Right Choice for Home Health Care Services!
Stephen Sternbach has been the Chairman of the Board of Directors, President, and Chief Executive Officer of Star Multi Care Services since 1987. After the sale of the New York and New Jersey operations of Star Multi Care Services, Sternbach brought the company private where he remains President and CEO of this newly developed $22M home healthcare company. With Sternbach at the helm, Star Multi Care Services employs more than 550 employees, in six offices throughout Florida, Pennsylvania, Ohio and New York.

From 1978 to 1986, Sternbach was associated with Automated Data Processing, Inc. ("ADP")–a provider of information services, where he held several marketing positions before becoming the Director of Sales.

1999-2008 Sternbach was an active participant on the Board of Directors for Proginet–a computer software company based in Garden City, New York. He also served on the Board of Trustees of the Long Island Chapter of the National Multiple Sclerosis Society from 1996-2002.

In 1996, Stephen Sternbach was named "Entrepreneur of the Year" by Ernst & Young, Paine Webber and NASDAQ. Sternbach was also named in Crain's New York Business Article, "40 Under 40" Successful Business Executives/Future Business Leaders in 1995. While maintaining a diversity of business and personal interests, Sternbach concentrated most of his efforts over the past 28 years towards continuously improving the quality of services delivered by the Star Multi Care Services' family of companies.

Stephen Sternbach holds a Master of Public Administration from Syracuse University – Maxwell School of Public Administration and a Bachelor of Arts in Industrial Relations and Personnel Administration from Ithaca College.
Latest posts by Stephen Sternbach (see all)