Senior Care in Northport NY
Vision aids can range from pocket-sized magnifying lenses all the way to expensive task lighting or devices that can read a book to your loved one. No matter what you're looking for in order to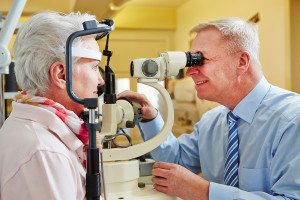 help your loved one deal with vision problems, it can be a job to track it down. Here are some ideas that can help.
Talk to Your Loved One's Eye Doctor
Your loved one's eye doctor is an excellent first source for information about finding all sorts of vision aids beyond just eye glasses and contact lenses. He may also have other suggestions for items that can help your loved one to see better, such as lighted magnifiers or voice-activated tools. If you're worried about bothering your loved one's eye doctor with these types of questions, don't be. These are just the types of situations that eye doctors like to help out with.
Comparison Shop Online
Once you know what your loved one might get some use out of, try comparison shopping online first. This saves you a ton of gas and time since you're not running around from one store to the next trying to get something at a bargain. The downside to online shopping can be that your loved one can't try out the vision aid, though, so look for liberal return policies in case you need to send something back.
Check Out Local Stores
Another option, particularly if you're budget conscious, is to look for similar items in an unusual spot. For example, lighted magnifying glasses for crafting can be pricey. But you can find the exact same tool marketed for a more general purpose at say, your local hardware store, that's a lot more budget friendly. Try scoping out your local shops when you're there for something else and you might find something that you can use creatively for your loved one.
Ask Local Organizations
If your budget is a huge concern, sometimes it's not enough to just shop around to find the right visual aids for your loved one. Try asking local organizations what they have that your loved one might be able to use. Often items are donated that your loved one can borrow or have. You never know until you ask.
Talk to your loved one's senior care providers for ideas, too. They're experienced at helping caregivers learn how to find the items that their loved ones need.
If you or an aging loved one are in need of senior care services in Northport, NY or the surrounding areas, contact the caring professionals at Star Multi Care Services today at (631)956-8835. We are the Right Choice for Home Health Care Services!
Stephen Sternbach has been the Chairman of the Board of Directors, President, and Chief Executive Officer of Star Multi Care Services since 1987. After the sale of the New York and New Jersey operations of Star Multi Care Services, Sternbach brought the company private where he remains President and CEO of this newly developed $22M home healthcare company. With Sternbach at the helm, Star Multi Care Services employs more than 550 employees, in six offices throughout Florida, Pennsylvania, Ohio and New York.

From 1978 to 1986, Sternbach was associated with Automated Data Processing, Inc. ("ADP")–a provider of information services, where he held several marketing positions before becoming the Director of Sales.

1999-2008 Sternbach was an active participant on the Board of Directors for Proginet–a computer software company based in Garden City, New York. He also served on the Board of Trustees of the Long Island Chapter of the National Multiple Sclerosis Society from 1996-2002.

In 1996, Stephen Sternbach was named "Entrepreneur of the Year" by Ernst & Young, Paine Webber and NASDAQ. Sternbach was also named in Crain's New York Business Article, "40 Under 40" Successful Business Executives/Future Business Leaders in 1995. While maintaining a diversity of business and personal interests, Sternbach concentrated most of his efforts over the past 28 years towards continuously improving the quality of services delivered by the Star Multi Care Services' family of companies.

Stephen Sternbach holds a Master of Public Administration from Syracuse University – Maxwell School of Public Administration and a Bachelor of Arts in Industrial Relations and Personnel Administration from Ithaca College.
Latest posts by Stephen Sternbach (see all)