Senior Care in Northport NY
Sometimes as a family caregiver you're going to have to have difficult talks with your elderly loved one. Preparation is the key to making these talks productive.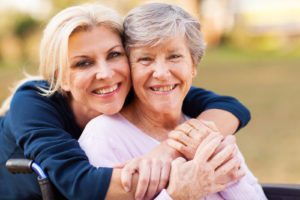 Think about Her Possible Reaction to the Topic
Before you even broach the difficult topic, ask yourself how your loved one is likely to respond to what you have to say. It's possible that you already know how she will react, but try to go into as much detail when you think about it as possible. Will she be upset? Will she be angry enough to yell? Her emotional reaction is only part of the situation that you need to consider.
List out Possible Concerns She Might Have
Often your loved one's emotional response is driven by the underlying concerns and fears that she has about the topic. For example, if what you want to discuss with her is the possibility of hiring senior care providers, she may be concerned about having a stranger around, losing her independence, or even that this means that you won't be coming around anymore at all. Some of these concerns and fears may be valid, while some might be unrealistic. It's important to consider them all, however.
Determine What Alternatives Exist
Once you have a handle on your loved one's potential concerns and fears, ask yourself what alternatives to your proposed solution exist. It's important to consider this because if you go into the conversation with a potential alternative, your loved one might be more interested in listening further. Your alternative may also help to quell some of the valid concerns and fears. It's important to note, though, that some situations may not have an alternative.
How Would You Feel or React?
Take a moment also to reflect on how you might feel or react if someone were to have this conversation with you. Putting yourself in your loved one's shoes can help you to feel compassion for how she may respond, even if her response initially seems to be a bit of an overreaction to the topic at hand. Try to hold onto the feelings you uncover here as they'll help you to navigate the conversation more patiently.
Add Something Positive
No matter how difficult the discussion is, there is bound to be something positive that you can add. Make a list of any of the positive statements that you can make so that you're sure to include them.
Having a difficult discussion with your elderly loved one may feel like something you want to put off, but if you prepare yourself well beforehand it is likely to go much more easily.
If you or an aging loved one are in need of

senior care in Northport, NY

or the surrounding areas, contact the caring professionals at Star Multi Care Services today at (631)956-8835. We are the Right Choice for Home Health Care Services!
Stephen Sternbach has been the Chairman of the Board of Directors, President, and Chief Executive Officer of Star Multi Care Services since 1987. After the sale of the New York and New Jersey operations of Star Multi Care Services, Sternbach brought the company private where he remains President and CEO of this newly developed $22M home healthcare company. With Sternbach at the helm, Star Multi Care Services employs more than 550 employees, in six offices throughout Florida, Pennsylvania, Ohio and New York.

From 1978 to 1986, Sternbach was associated with Automated Data Processing, Inc. ("ADP")–a provider of information services, where he held several marketing positions before becoming the Director of Sales.

1999-2008 Sternbach was an active participant on the Board of Directors for Proginet–a computer software company based in Garden City, New York. He also served on the Board of Trustees of the Long Island Chapter of the National Multiple Sclerosis Society from 1996-2002.

In 1996, Stephen Sternbach was named "Entrepreneur of the Year" by Ernst & Young, Paine Webber and NASDAQ. Sternbach was also named in Crain's New York Business Article, "40 Under 40" Successful Business Executives/Future Business Leaders in 1995. While maintaining a diversity of business and personal interests, Sternbach concentrated most of his efforts over the past 28 years towards continuously improving the quality of services delivered by the Star Multi Care Services' family of companies.

Stephen Sternbach holds a Master of Public Administration from Syracuse University – Maxwell School of Public Administration and a Bachelor of Arts in Industrial Relations and Personnel Administration from Ithaca College.
Latest posts by Stephen Sternbach (see all)