Senior Care in Northport NY
September is Blood Cancer Awareness Month. Whether your parent has been diagnosed with this type of cancer or another type, this is the ideal opportunity for you to take the time to talk to your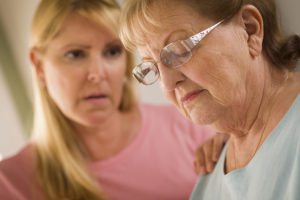 aging parent about this diagnosis and how it will impact your loved one's future and your care efforts for them. Being open and honest about this situation will help to not only ensure that your aging parent gets the level of care, support, and encouragement that they need and deserve, but can also draw you closer together to create a stronger, more meaningful and beneficial relationship as they progress through this experience.
Use these tips to help you talk to your elderly loved one about their cancer diagnosis:
Show emotion. You might want to "protect" your parent by not showing them how deeply this experience impacts you, but it is important that you are honest and straightforward with them about how you are actually feeling. Showing emotion about the situation shows your aging parent that you love them and are going through your own experience with this. Showing your own emotions will also help your parent to feel more comfortable expressing themselves and working through their own reactions to the news.
Give them space. Do not be surprised or discouraged if your aging parent does not want to talk about the situation immediately. They are going through their own emotions and reactions to the journey that they are about to face and may not be ready to express them yet. Give them space and do not try to push it. Wait for a few days and then try again. Eventually they will get to a point at which they are ready to talk to you.
Focus on their thoughts, not yours. Even though you are their family caregiver, it is not your responsibility to make care or treatment decisions for them. They are still an individual that has their own thoughts, opinions, beliefs, and convictions, and it is essential that you focus on those during your conversation. Avoid talking too much about what you think they should do or how you would react in this situation. Instead, allow them to tell you want they are thinking and what they would like to do. Offer your support and give your opinion only when asked. Show them that you are there for them and will support them in their decisions so they feel more confident moving forward.
If your parent has recently been diagnosed with cancer, not may be an ideal time for you to consider starting elderly care for them. An elderly home care services provider can be with your parent from the beginning to provide the emotional support and physical assistance that they will need to help them handle their experience with cancer in the way that is right for them. Through a care approach of personalized services tailored to their specific needs, limitations, and challenges, this care provider can help your parent to come to terms with their cancer diagnosis, feel confident in the care, treatment, and management decisions that they have made, and maintain the highest quality of life possible.
If you or an aging loved one are in need of

senior care in Northport, NY

or the surrounding areas, contact the caring professionals at Star Multi Care Services today at (631)956-8835. We are the Right Choice for Home Health Care Services!
Stephen Sternbach has been the Chairman of the Board of Directors, President, and Chief Executive Officer of Star Multi Care Services since 1987. After the sale of the New York and New Jersey operations of Star Multi Care Services, Sternbach brought the company private where he remains President and CEO of this newly developed $22M home healthcare company. With Sternbach at the helm, Star Multi Care Services employs more than 550 employees, in six offices throughout Florida, Pennsylvania, Ohio and New York.

From 1978 to 1986, Sternbach was associated with Automated Data Processing, Inc. ("ADP")–a provider of information services, where he held several marketing positions before becoming the Director of Sales.

1999-2008 Sternbach was an active participant on the Board of Directors for Proginet–a computer software company based in Garden City, New York. He also served on the Board of Trustees of the Long Island Chapter of the National Multiple Sclerosis Society from 1996-2002.

In 1996, Stephen Sternbach was named "Entrepreneur of the Year" by Ernst & Young, Paine Webber and NASDAQ. Sternbach was also named in Crain's New York Business Article, "40 Under 40" Successful Business Executives/Future Business Leaders in 1995. While maintaining a diversity of business and personal interests, Sternbach concentrated most of his efforts over the past 28 years towards continuously improving the quality of services delivered by the Star Multi Care Services' family of companies.

Stephen Sternbach holds a Master of Public Administration from Syracuse University – Maxwell School of Public Administration and a Bachelor of Arts in Industrial Relations and Personnel Administration from Ithaca College.
Latest posts by Stephen Sternbach (see all)