Senior Care in Stonybrook NY
Your loved one might have trouble sleeping at night for a variety of different reasons, but the bottom line is that lack of sleep can be a huge problem for your loved one. Getting to the bottom of the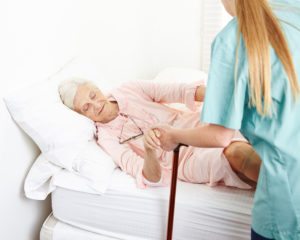 issue and solving it can be easier than you think.
Rule Out Physical Problems Causing Sleep Trouble
All kinds of health conditions can make sleeping more difficult for your elderly loved one. Physical ones, such as pain or sleep apnea, can be as troublesome as emotional issues. If you are just starting to sort out what could be causing your loved one's sleeping issues, start with a visit to his doctor. His doctor can rule out any medical causes for your loved one's trouble with sleeping properly.
Work with His Doctor to Manage Medications Properly
Once you've ruled out new physical problems, it's time to look at either existing conditions or even medication management. Your loved one could be taking medications properly, but at a time or dosage that makes sleeping really difficult. Your loved one's doctor can recommend changing up dosages or times for medications to help make your loved one's evenings go a little more smoothly.
Establish a Daytime Routine
Your loved one has probably managed his own daytime schedule for many years now, so it might seem a bit odd to recommend a daytime routine. The reality is that if your loved one is getting up late in the morning, avoiding exercise, and eating a diet that is heavy on the junk food, that can have a huge impact on his sleep. Try working with your loved one to set a schedule that works for him and that allows him to get some movement in, wake up at a time that allows him to spend the day doing what he wants, and that helps him to sleep more easily.
Establish a Bedtime Routine
Having a solid bedtime routine is just as important for your loved one as having a daytime routine is. For a bedtime routine that works, you need a consistent bedtime and a ritual that helps your loved one's brain and body tune into the fact that it's now time to go to sleep. This can mean reading for a little while before bed, taking a soothing bath, or simply getting ready for bed at the same time every night.
If you have problems sorting out a day or evening routine for your loved one, work with his senior care providers to help establish routines that work.
If you or an aging loved one are in need of

senior care in Stonybrook, NY

or the surrounding areas, contact the caring professionals at Star Multi Care Services today at (631)956-8835. We are the Right Choice for Home Health Care Services!
Stephen Sternbach has been the Chairman of the Board of Directors, President, and Chief Executive Officer of Star Multi Care Services since 1987. After the sale of the New York and New Jersey operations of Star Multi Care Services, Sternbach brought the company private where he remains President and CEO of this newly developed $22M home healthcare company. With Sternbach at the helm, Star Multi Care Services employs more than 550 employees, in six offices throughout Florida, Pennsylvania, Ohio and New York.

From 1978 to 1986, Sternbach was associated with Automated Data Processing, Inc. ("ADP")–a provider of information services, where he held several marketing positions before becoming the Director of Sales.

1999-2008 Sternbach was an active participant on the Board of Directors for Proginet–a computer software company based in Garden City, New York. He also served on the Board of Trustees of the Long Island Chapter of the National Multiple Sclerosis Society from 1996-2002.

In 1996, Stephen Sternbach was named "Entrepreneur of the Year" by Ernst & Young, Paine Webber and NASDAQ. Sternbach was also named in Crain's New York Business Article, "40 Under 40" Successful Business Executives/Future Business Leaders in 1995. While maintaining a diversity of business and personal interests, Sternbach concentrated most of his efforts over the past 28 years towards continuously improving the quality of services delivered by the Star Multi Care Services' family of companies.

Stephen Sternbach holds a Master of Public Administration from Syracuse University – Maxwell School of Public Administration and a Bachelor of Arts in Industrial Relations and Personnel Administration from Ithaca College.
Latest posts by Stephen Sternbach (see all)