Senior Care in Stonybrook NY
One of the most common reasons for hospitalization of the elderly results from falls. As caregivers, one of the most important aspects of senior care is being aware of the dangers that may be present in the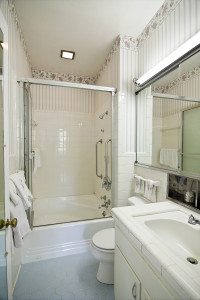 home of your elderly parents. Preventing falls in the home is essential to ensure the best quality of life and independence for your elderly parent.
Senior Care and Preventing Falls
More than half of all falls among the elderly occur because of hazards in the home. Some of the ways to reduce the risk of falls include:
De-cluttering-daily life can make it extremely easy for clutter to build-up, but piles of newspapers, clothes, shoes and books can contribute to the risk for falls in your elderly parent. Although all thoroughfares should be clear, it is especially important to de-clutter main routes, such as from the bedroom to the bathroom and into the kitchen.
Avoid placing area rugs in hallways and other major thoroughfares. Area rugs that are used in any area of the home should be taped down to prevent slipping or tripping over a buckling or rolling rug. Secure all loose edges of carpet with nonskid tape.
Nonslip mats should be used in the bathroom and kitchen. It is common for water to get on the floor in both of these rooms. Nonslip mats near the bathtub/shower and all sinks will help to reduce the risk of falls on a wet floor.
Install good lighting throughout the home and place night lights in stairwells and hallways. It is common for elderly people to make frequent trips to the bathroom, especially at night. So, a great step in senior care is to reduce tripping hazards by placing night lights in hallways leading to the bathroom.
Safety supports go a long way in senior care and preventing falls. Installing grab bars in the bathroom will help prevent slipping and falling while getting in and out of the shower as well as sitting down and standing up from the toilet.
If there are stairs in the home, including exterior steps that lead inside, adding contrasting color strips will help prevent falls, especially for those who have a problem with depth perception.
As a caregiver of your elderly parents, it is essential to do everything in your power to safeguard their home and prevent the risk of falls. However, it is virtually impossible to guarantee that they will never fall. If you have taken all of the precautions to prevent the risk of your elderly parent falling, but you still have concerns, especially if they live alone, consider hiring a senior care provider to spend time with your parent when you are unable to be there.
If you or an aging loved one are in need of senior care services in Stonybrook, NY or the surrounding areas, contact the caring professionals at Star Multi Care Services today at (631)956-8835. We are the Right Choice for Home Health Care Services!
Stephen Sternbach has been the Chairman of the Board of Directors, President, and Chief Executive Officer of Star Multi Care Services since 1987. After the sale of the New York and New Jersey operations of Star Multi Care Services, Sternbach brought the company private where he remains President and CEO of this newly developed $22M home healthcare company. With Sternbach at the helm, Star Multi Care Services employs more than 550 employees, in six offices throughout Florida, Pennsylvania, Ohio and New York.

From 1978 to 1986, Sternbach was associated with Automated Data Processing, Inc. ("ADP")–a provider of information services, where he held several marketing positions before becoming the Director of Sales.

1999-2008 Sternbach was an active participant on the Board of Directors for Proginet–a computer software company based in Garden City, New York. He also served on the Board of Trustees of the Long Island Chapter of the National Multiple Sclerosis Society from 1996-2002.

In 1996, Stephen Sternbach was named "Entrepreneur of the Year" by Ernst & Young, Paine Webber and NASDAQ. Sternbach was also named in Crain's New York Business Article, "40 Under 40" Successful Business Executives/Future Business Leaders in 1995. While maintaining a diversity of business and personal interests, Sternbach concentrated most of his efforts over the past 28 years towards continuously improving the quality of services delivered by the Star Multi Care Services' family of companies.

Stephen Sternbach holds a Master of Public Administration from Syracuse University – Maxwell School of Public Administration and a Bachelor of Arts in Industrial Relations and Personnel Administration from Ithaca College.
Latest posts by Stephen Sternbach (see all)