A Heartfelt Thank You Goes Out To Our Dedicated Employees
We want to personally thank each of the amazing employees at Star Multi Care for choosing to continue your dedication to our mission and for your commitment to ensure the safety and health of each of our clients. Home Health Care has become a frontline force in the fight against the Corona Virus. It is in times like this that our appreciation and admiration are heightened. Each day you go to work your selfless and compassionate nature shines and we realize just how much we value you as employees. The world is a better place because of people like you.
In return for your continued perseverance, we want to remind you that we are working to ensure your safety. We will continue to monitor the situation through reliable resources such as the Centers for Disease Control, Department of Health and various health experts to ensure our procedures stay current, education remains tailored to your well-being and your protection remains our #1 goal. We will continue to maintain ample supplies of personal protective equipment to provide a safe working environment and attempt to eliminate unnecessary dangers to your health. We have enlisted community resources to offer you and your family additional support should you need it and want each of you to know, we are here to help.
Together, we can weather this storm and be a stronger force for the communities which we serve. Again, you have earned our deepest admiration and we want to thank you for choosing to be a part of the Star Multi Care family of Companies.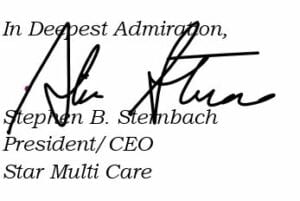 If you or an aging loved one are in need of Home Health Care Services in Manhasset NY or the surrounding areas, contact the caring professionals at Star Multi Care Services today at (631)956-8835. We are the Right Choice for Home Health Care Services!
Latest posts by Stephen Sternbach
(see all)