If you're still wondering what home health care services are and how they could help your elderly family member, it's a good idea to dig a little deeper into what it all means. This type of care can make a huge difference in how well your senior is doing physically and mentally, especially after an injury or illness.
Care That Your Senior Receives at Home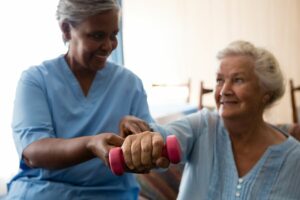 Home health care providers visit your elderly family member at home, where she's most comfortable. This is often because your senior has become injured or is recovering from an illness or surgery. This type of care is often prescribed to help your elderly family member to heal more quickly and thoroughly.
Care Is Provided by Licensed Nurses and Therapists
Unlike home care, this type of care is provided by licensed nurses and therapists under the direction of your senior's doctor. Your senior might need help from physical therapists, occupational therapists, registered nurses, and more in order to recover. Her care plan is made up of all of these different types of care and assistance that she may require.
Care Is More Medical than Non-medical
When you think about home health care for your senior, the reason for the care is right there in the name. This type of care is about offering your senior medical assistance that she may need, whether that's helping with wound care after a surgery or assisting with recovery after a stroke and watching things like blood pressure levels. Because medical providers are the ones helping your senior, non-medical care is something completely separate.
Home Health Care Requires Certification from a Doctor
Many people don't realize that this type of care has regulations, including that it needs to be prescribed or certified by your senior's doctor. Any of her doctors might recommend home health care for a variety of reasons, and the most common prerequisite is that your elderly family member is homebound. This type of care is deemed necessary in order to help your senior to recover and heal.
Providers Visit as Often as Necessary According to Doctor's Orders
You might wonder how often caregivers might need to visit your senior and the answer is that it varies. There could be several different types of medical care that your elderly family member needs, offered by different professionals. That may mean that your senior has multiple different visits per week, checking in on her and helping her to have the medical assistance at home that she needs.
If you suspect that these services might assist your aging family member now, it's a good idea to talk with her doctor about what you are seeing. Once you determine that this type of care is right for her needs, your senior's doctor can help you to ensure that your senior has that help on an ongoing basis. It may be very temporary, especially while recovering from surgery, or may require ongoing visits for your senior to have the help that she needs.
If you or a family member need to hire Home Health Care Services 

in

Stonybrook NY or the surrounding areas, contact the caring professionals at Star Multi Care Services today at (631)956-8835. We are the Right Choice for Home Health Care Services!
Latest posts by Stephen Sternbach
(see all)