More than 297,000 new cases of breast cancer are diagnosed each year. There's a one in eight chance of getting this cancer, and the median age at the time of diagnosis is 62. Treatment options depend on the location of the tumor and how advanced the cancer is. Some form of surgery is common, and lumpectomies are the most common with 55% of patients undergoing this surgery. The other 45% opt for either unilateral or bilateral mastectomies. Hiring post-hospital care providers could assist her in her recovery.
Your mom is going for a mastectomy, so what is she going to need?
She Cannot Lift Heavy Items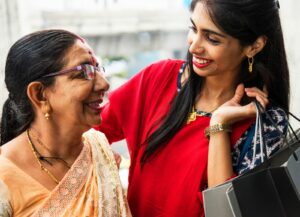 It's going to take time before your mom has the full range of motion in her arm and shoulder. Until that returns, she needs to avoid lifting anything heavy for as long as her surgeon instructs, which is usually four to six weeks.
This means no lifting a hamper or laundry basket and no carrying in groceries. Someone needs to do this for her. Post-hospital care services can help with laundry days, which is often helpful if you don't live nearby.
She Needs Help With Housework
In addition to lifting heavy items, she cannot do things that require repetitive push and pull motions, such as vacuuming, mopping, or moving furniture to clean underneath it. Have a family member around to make her bed, change the sheets, and do the laundry. If you can't clean her house, arrange to have caregivers help out.
She Needs Rides
Steering a car is going to be challenging. She may have a hard time buckling her seatbelt and switching gears, too. Someone else needs to do the driving for now. Once she's settled, help her buckle and be ready to help her in and out of the car too.
She Needs Companionship Visits
Following a major surgery like this, depression is possible. Your mom is going to be anxious and stressed as her health is impacted. If there are area support groups for cancer survivors, see if she'd like to go.
If not, make sure family and friends stop by as much as your mom wants. The more visits she has, the better it is for her mental health. She won't have time to sit and dwell on the negative impact cancer has on her stamina and well-being.
She Needs Help Remembering to Take Medications
Pain medications are going to be important as she heals. Make sure someone is available to help her keep track of when she last took a pill and when she can have another. If she has prescription pills, too, caregivers can help her keep track of them.
She Needs Help With Grooming and Hygiene
Finally, if your mom has a hard time reaching up to wash her hair, help her. Have someone available to wash her hair every few days. If you can't do it, arrange to have post-hospital care aides available to help with housework, personal care, and companionship.
Sources: https://www.cancer.org/cancer/types/breast-cancer/about/how-common-is-breast-cancer.html
https://med.stanford.edu/news/all-news/2014/09/breast-cancer-patients-with-bilateral-mastectomy-dont-have-bette.html
If you or a family member need to hire Post-Hospital Care Services in Great Neck NY or the surrounding areas, contact the caring professionals at Star Multi Care Services today at (631)956-8835. We are the Right Choice for Home Health Care Services!
Latest posts by Stephen Sternbach
(see all)