Elderly Care in Dix Hills NY
The holidays are right around the corner and for those on an elderly care journey with their aging parents, the time can seem to slip right by and before you know it, the guests are arriving and you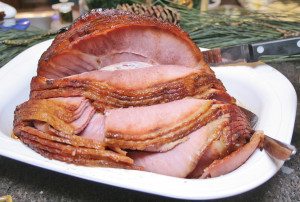 are going to be expected to have dinner ready for them. Starting to prepare now will help you to be confident heading into the holiday season and ensure that when the time comes, you have everything ready and are in place to relax, spend time with your friends and family, and actually enjoy the holidays.
This recipe is for a delectable spin on a traditional ham dinner. Featuring bourbon and ginger snap cookies along with brown mustard, the glaze is rich, flavorful, and indulgent, making it the perfect special occasion complement to the high protein, savory ham. Serve this as a complement to your usual offerings at Thanksgiving or Christmas, or keep it on hand as an impressive, delicious, but completely accessible weeknight dinner offering when you have friends over or when you want to treat your aging loved ones to something special. Be sure to save the leftovers so that your parents and their elderly health care services provider can enjoy ham and eggs or delectable ham sandwiches in the days following.
What You Will Need
• 1 brined ham, hock end
• 1/4 cup of brown mustard
• 2 cups of dark brown sugar
• 1 ounce of bourbon in a spritz bottle
• 2 cups of crushed ginger snap cookies
• Roasting pan
• Small paring knife or clean utility knife
• Thermometer
• Heavy duty foil
• Tongs
• Paper towels
• Basting brush
What to Do
• Preheat the oven to 250 degrees Fahrenheit
• Remove the ham from the bag and drain and rinse thoroughly
• Place the ham cut side down in the roasting pan
• Using the paring knife or the utility knife on its smallest setting, score the ham from bottom to top, spiraling clockwise, making sure to only cut through the skin and the first few layers of fat
• Rotate the ham after each cut, making sure that the scores are no more than 2 inches across
• Repeat spiraling counter clockwise, creating a diamond pattern all over the ham
• Using the heavy foil, tent the ham and insert a thermometer
• Cook the ham until the temperature at the deepest part of the ham is 130 degrees Fahrenheit, which should be 3 to 4 hours
• Remove from the oven and use tongs to pull the diamonds of skin and any sheets of fat that come away
• Turn the oven up to 350 degrees Fahrenheit
• Using paper towels, dab dry
• Brush the ham, using the basting brush, with a liberal amount of mustard
• Sprinkle on the brown sugar, making sure to pack loosely as you go, until the ham is coated
• Spritz with the bourbon in the spritzer
• Loosely pack on as many crushed cookies as possible
• In a new hole, insert the thermometer and return to the oven uncovered
• Cook about 1 hour or until the temperature reaches 140 degrees Fahrenheit
• Remove from the oven and allow the roast to rest for 1/2 an hour before carving
If you or an aging loved one are in need of elderly care services in Dix Hills, NY or the surrounding areas, contact the caring professionals at Star Multi Care Services today at (631)956-8835. We are the Right Choice for Home Health Care Services!
Stephen Sternbach has been the Chairman of the Board of Directors, President, and Chief Executive Officer of Star Multi Care Services since 1987. After the sale of the New York and New Jersey operations of Star Multi Care Services, Sternbach brought the company private where he remains President and CEO of this newly developed $22M home healthcare company. With Sternbach at the helm, Star Multi Care Services employs more than 550 employees, in six offices throughout Florida, Pennsylvania, Ohio and New York.

From 1978 to 1986, Sternbach was associated with Automated Data Processing, Inc. ("ADP")–a provider of information services, where he held several marketing positions before becoming the Director of Sales.

1999-2008 Sternbach was an active participant on the Board of Directors for Proginet–a computer software company based in Garden City, New York. He also served on the Board of Trustees of the Long Island Chapter of the National Multiple Sclerosis Society from 1996-2002.

In 1996, Stephen Sternbach was named "Entrepreneur of the Year" by Ernst & Young, Paine Webber and NASDAQ. Sternbach was also named in Crain's New York Business Article, "40 Under 40" Successful Business Executives/Future Business Leaders in 1995. While maintaining a diversity of business and personal interests, Sternbach concentrated most of his efforts over the past 28 years towards continuously improving the quality of services delivered by the Star Multi Care Services' family of companies.

Stephen Sternbach holds a Master of Public Administration from Syracuse University – Maxwell School of Public Administration and a Bachelor of Arts in Industrial Relations and Personnel Administration from Ithaca College.
Latest posts by Stephen Sternbach (see all)